F.O. Outlet Kit
with keystone, adapter and preterminated SC/APC patch cord
Complete kit for the installation of a connectorized fiber optic outlet.
The keystone module allows the installation of a "SC/APC" female fiber optic adapter in an RJ45-type outlet cover. The module, together with the adapter, make up a fiber optic terminal outlet.
It also includes a preterminated single-mode fiber optic patch cord with "SC/APC" connectors at its ends, to supply the signal from the optical UAP to the socket. This patch cord is specially designed with a shorter boot at one of the ends, thus avoiding increases attenuations in the signal due to exceisve bends.
SKU
23324x_Keystone_Latiguillo_FO

Televes reserves the right to modify the product
Highlights
Keystone module with standard dimensions, making it compatible with all conventional RJ45 covers
Very easy installation: the keystone module is introduced into the cover by pressing until the module tabs hook. The adapter is installed on the keystone module by the same process
Patch cord design adapted to the installation in the outlet: its shorter boot makes easier the passage of the SC/APC connector into the pipe to the outlet
Very low insertion losses
Patch cord with Euroclass Dca-s2,d2,a1

Main features
"SC/APC" connectors
Keystone module built in white colour PVC plastic
Patch cord with ITU-T G657A2 single-mode fiber and LSFH outer sheath in orange colour
Patch cord available in different lengths

| | | |
| --- | --- | --- |
| Fiber | Type | Single Mode |
| Opctics connectors | Type | SC/APC |
| Cover material | Type | LSFH |
| Euroclass | | Dca-s2,d2,a1 |
| Attenuation | dB | ≤ 0,8 |
| Insertion losses | dB | < 0,5 |
| Return losses (in each patch cord ) | dB | >60 |
| Minimum radius of curvature | mm | 5 x diameter cable |
| Outside diameter of the fiber | mm | 3 |
Mounting details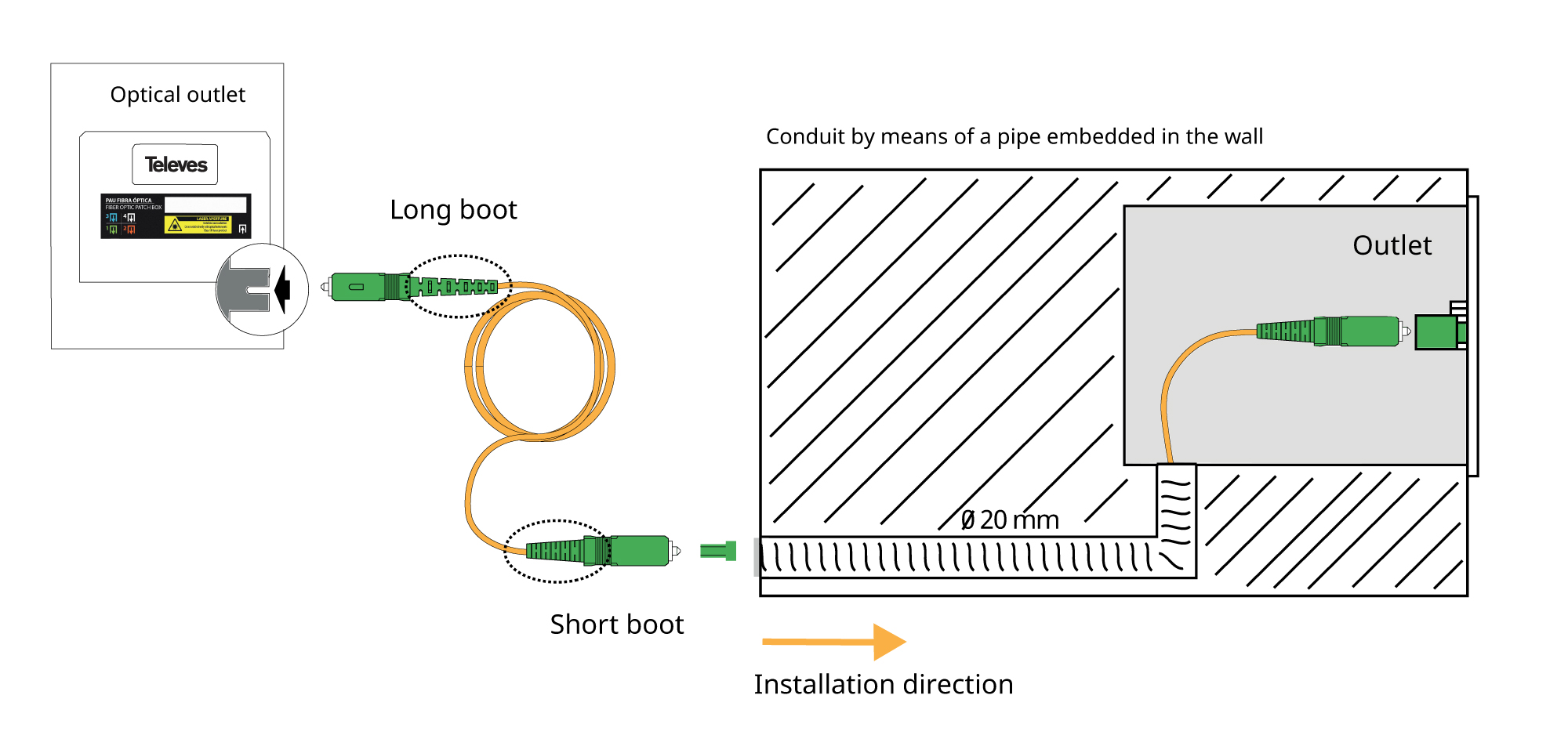 During the patch cord installation, he end with the long boot must be connected to the optical UAP, while the end with the shorter boot will be inserted into the pipeline to the outlet.
Thanks to this design, it will be easier to introduce the patch cord into the pipeline, and it will avoid large attenuations due of the bends of the patch cord as it passes through the angles of the pipeline.
It is important to protect the "SC/APC" connector with its cap before starting the pass through the pipeline to avoid damage or dirt.
Mounting details
The keystone module, together with the adapter, is introduced into the cover by pressing until the module tab hook (click!).