H30D3 (DVB-C) sprectrum analyzer with DOCSIS 3.0
Stay in control no matter where you are
The H30 is a lightweight hand-held unit, packed with all the features needed to install and troubleshoot a television system using QAM digital modulation as well as NTSC analog signals. Control your meter and access your measurements from a smartphone, tablet, laptop or any other internet connected device. Thanks to its Bluetooth interface, the meter can connect with another devices.
Big features, small package.

Generate PDF

Televes reserves the right to modify the product
Highlights
Remote control and measurements by web interface
Its Bluetooth interface allows the connection with another devices
Easy to use and intuitive interface
Rugged and light weight
"Pass/fail" indicators, easy to understand (Quality Check Marks)
Automatic parameter detection: the H30 automatically detects signal type (A/D) and parameters to be measured (constellation, symbol rate, etc)
Frequency
MHz
5 to 1,002
Resolution
kHz
10
Input impedance
Ohm
75
Input level
45 to 125
Standards
ITU-T J.83 Annex A/B/C
Modulation
16/32/64/128/256 QAM, QPSK
Symbol Rate
Msps
2 to 6,9
MER
dB
≤ 40
Tolerance
dB
± 2
Digital Measurements
Power
MER
C/N
Pre-BER, Post-BER (Annex B)
BER (Annex A/C)
Constellation display
Analog Measurements
Video level
Audio level
V/A ratio
C/N
CTB/CBO
General
Display
2,8" TFT full color
Screen resolution
pixel
400 x 240 (2,8")
Weight
g
510
AC Adaptor
Vdc
12
Battery
Vdc
Li-Ion 7,2
Battery charge
mAh
2,300
Operating temperature
ÂşF
23 to 104

Remote Control & Measurements
In an affordable package
Control your meter and access your measurements from a smartphone, tablet, laptop or any other internet connected device. Ideal for extended signal tests over time in headends and broadband distribution networks. Leave your H30 connected to your headend or anywhere in your plant and control the unit to measure signals and quality parameters remotely. Once finished, export the results to your computer using the included HSuite software.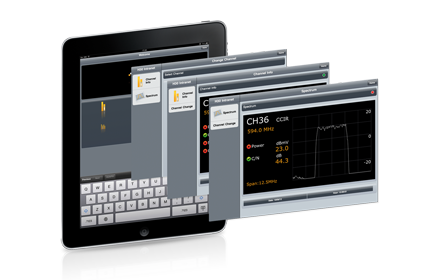 Rugged and Light Weight
Total reliability
A unique dual injected rubber and polycarbonate plastic housing ensures the best protection and durability. Weighing only one pound, the H30 is comfortable to carry and use. You can put it in your pocket or hang it from its sturdy built-in grommets using the provided shoulder strap… you will hardly know it's there!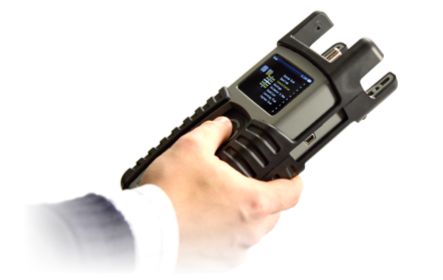 Intuitive User Interface
Reducing the learning curve
Easy to use one-­level menu structure with very intuitive functions for increased usability, faster operation and maximum productivity. No function requires more than three successive button pushes to achieve the desired operation. It doesn't get any easier than this, you will fly through the functions without ever reading the user manual.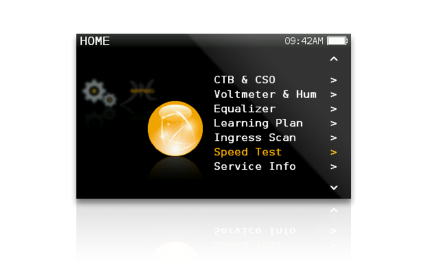 Ergonomic Handheld Design
Three buttons + thumbwheel
Intuitive and smooth operation for quick and easy function selection. The capacitive thumbwheel and three button keypad enable easy one-handed operation for maximum field work flexibility and second to none ease-of-use. Do you know how to use your cell phone?… then you know how to use an H30, plain and simple.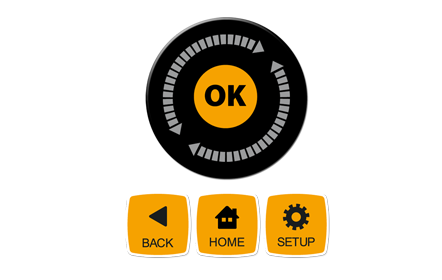 Long Battery Life
Over 5 hours on a full charge
High quality Li-­Ion batteries, in conjunction with our advanced low power consumption technology, provide enough juice for even the largest jobs. One hour of fast charging will provide almost three hours of extended operation.
Lab-quality Precision
Real-time digital processing
Designed from the ground up to instantaneously obtain all the information in the signal in real time, a true milestone in field testing. The H30 provides the accuracy and speed needed to detect the faintest transients, ingress, or spurious signals affecting your cable system. Lab-quality precision available for the first time in such a portable and affordable package.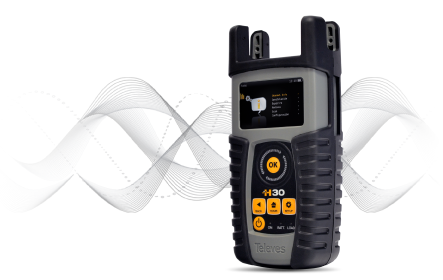 Comprehensive Functions
With pass/fail indicators
Complete set of CATV features such as Single Channel Measurements, System Scans, Tilt Function, Constellation, Spectrum Analyzer, Service Identification, Datalogs, Reverse Path Ingress Scan, Plan Learning… as well as comprehensive DOCSIS 3.0 functionality including Connection Status Information, Quality Parameters for every upstream / downstream carrier, Throughput and Modem Emulation.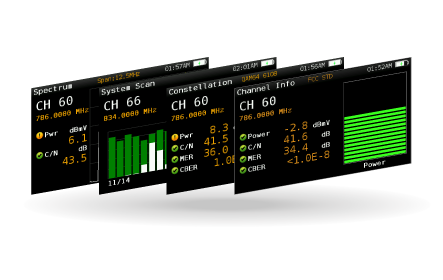 Automatic SW upgrades
Updated at all times
User selectable automatic updates. Simply hook up to an internet connection and the H30 will download the latest software version from the cloud keeping itself fresh with the most up-to-date functionality and latest improvements available. You don't have to worry about when the last time you updated the software was, because your H30 will take care of that for you.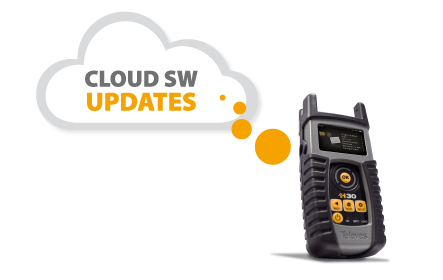 100% Automatic
Signal detection
Completely automatic, ITU-­T J.83 Annex A/B/C and NTSC parameter detection and measurement with no setup needed. The H30 will immediately detect if the input signal is analog or digital and determine its constellation, symbol rate, and other modulation parameters, providing instantaneous readings with no user intervention.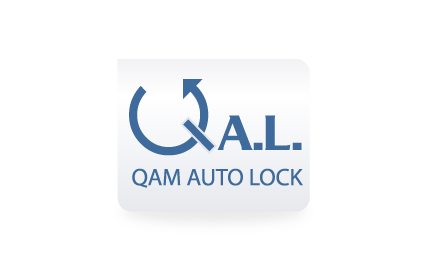 Made in Televes
Your Quality Warranty
The H30 is entirely designed by Gsertel, company within Televes Corporation, where our team of experienced and highly qualified telecommunication engineers managed to integrate digital processing in a handheld unit of 1lb of weight. Each H30 includes more than 5,000 components and integrated circuits.