Dokumentation
Komplett och uppdaterad service- och produktdokumentation tillgänglig för visning och nedladdning. Välj en kategori för att inleda din sökning.
Detta innehåll finns bara tillgängligt på engelska
InfoTeleves 18 (June 2013)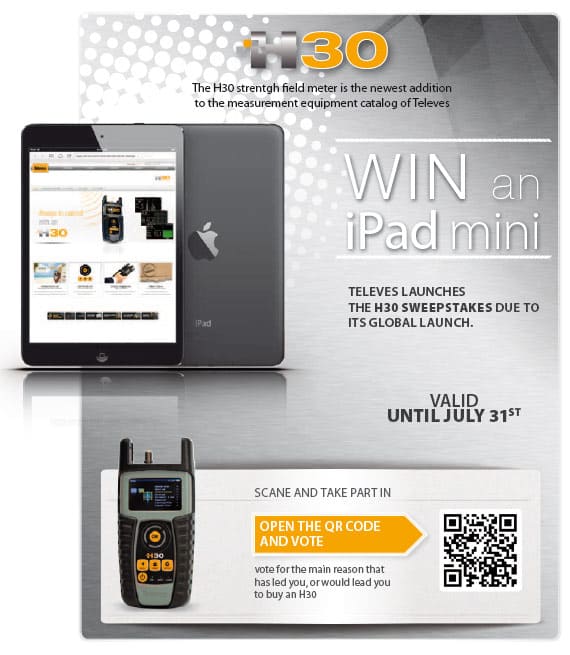 NABshow of LAS VEGAS, april 6-11
From 6th to 11th of April, one of the most prestigious fairs was held in Las Vegas: NABSHOW.
Televes came with a stand that showed the full range of products which are associated to the U.S. market, as H60 and H30 meters or T.0X headends. The highlight was the multi-input QAM encoder.
Evolving Connectivity 2013 Birmingham (UK), May 1
The "Evolving Connectivity 2013" fair, held by CAI in London, took place on 1ST May and is considered a main event in this sector. Despite a duration of a single day, the number of visitors increased compared to previous years when the fair lasted two days.
The imminent deployment of LTE/4G in the UK became much more attractive the stand of Televes where this event was the subject. The centre of attention was AT800 filters, the new V antenna approved by the CAI standard for LTE/4G, and also microcavities filters for shared distributions.
The interest due to have a specific measuring equipment for LTE/4G made H60 the other focus attraction. Amongst the conferences, the one of Simon Beresford-Wylie CEO of DMSL/AT800 stood out; he presented the results of some pilots performed by AT800 in London


Is CoaxData limited to coaxial networks?
---
EXPERT'S OPINION
CoaxData is a constantly evolving system in line with the market and technology.
GigaBit version is already being manufactured and reaches 700Mbps PHY. Consequently, and in accordance with current data needs, CoaxData now supports fiber optic networks. This represents an important qualitative leap for data networks implemented with safe and profitable systems such as coaxial cable and optical fiber.
769202 CoaxData module has a slot for linking-up a SFT (Small Form-factor Pluggable transceptor). It serves as interface between a data coaxial network and an optical fiber network.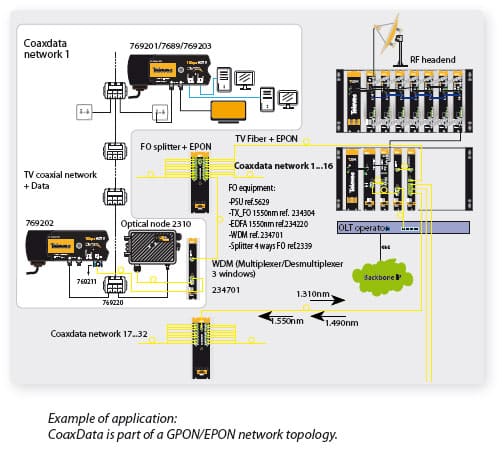 Depending on the type of SFP (769210 or 769211), the optical network served may be a P2P topology and use the same wavelength of 1310nm, or may be EPON/GPON where services are multiplexed in the typical three wavelengths (TV in 1550nm, downlink in 1490nm an uplink in 1310nm).
In installations where television and data are transmitted together through fiber optics, CoaxData becomes a complete "plug & play" solution, compatible with the Televes full range of TV transmission by Optical Fiber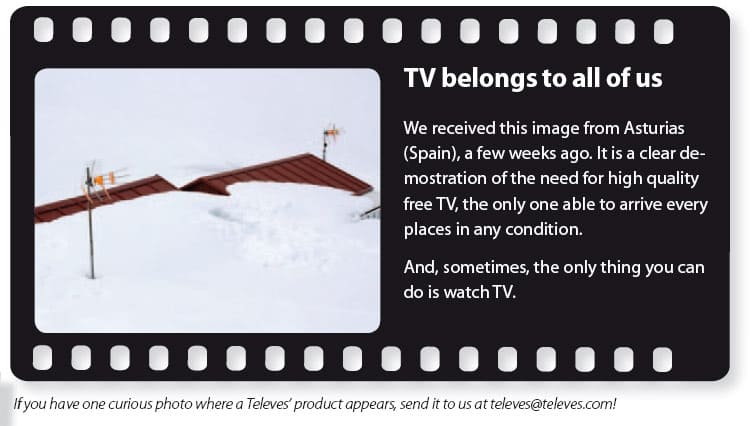 Gainsa offers proven solutions to small and medium firms
---
Interview with: Manuel Orois

Managing Director of Gainsa
To manage system networks, data bases, applications and software solutions for an industrial corporation with twenty subsidiaries and international offices in all continents, with commercial presence in almost 100 countries, is not even close to an easy endeavour. More so when the profile of each of these companies, and hence their necessities, are well differentiated. And the objective of all of them is to utilize technology as a key market asset.
This is the role that Gainsa plays within the Televes Corporation. The company was launched in 1976 as a systems integrator for the Group. Since then it has developed services and applications taylor-made for each subsidiary, respecting the overall system structure of a complex network.
We have sat down with Gainsa´s general manager, Manuel Orois, who summarises the future plans of the company. "We have decided to offer all the experience and know-how gained and put it to the service of small and medium companies. We offer them turn-key solutions that have minimised risk, as they have already been developed and implemented in the complex system infrastructures of the Televes Corporation", Orois explains, who points out that the company is business partner of IBM and HP
Gainsa presents its offering in three distinct product lines. Firstly, consulting services for information systems, including the deployment of website portals and Business Intelligence, integral ERP and development of content management apps. Secondly, design, programming and support of web resources, including turn-key deployment of Windows, Linux and IBM Series environments. Finally, within the network rollout line, Gainsa offers IP data&voice solutions, audit consultation for information security, as wells as system rollout for presence and restricted access control.
"Being part of the Televes Corporation has allowed us to develop abilities that enable us to really understand the uniqueness of companies with various profiles. This positions Gainsa to respond well to the information technology needs of companies in any market sector, and to help them grow their business supported in a founded network and applications structure", Orois concludes


...choosing a cheap product can be very expensive?
The marketing of electronic devices is subject to regulatory compliance that goes beyond specific operation of the device. There are standards for electrical safety, type of components to be used, performance in certain application conditions, etc.
Many of these standards are mandatory because sometimes safety of the user is in danger, and it is already known, prevention is better than cure. Obviously, bargains are based on the use of low-quality components, and design processes that ignore certifications and tests to determine compliance with standards and regulations.
Currently, we can find PSUs on the market that are not in compliance with standards about immunity or conducted emissions, plastics are not self-detachable, and even find PSUs that are not able to operate at 30ºC, a common room temperature.
Under continuous operation and in environments where heat means a severe test of reliability, PSUs made of low-quality components are usually candidates for a fault that may not have consequences at best.
Reflection is clear: Is the price I pay for an electronic device suitable? Do I run the risk of having possible worries? Cheap things can work out more expensive in the end!


Automatic analysis of LTE/4G signals with the H60
With the new features, the H60 measures the signal and also propose solutions.
---
The recent assignation of the upper part of the UHF spectrum (band of 800 MHz) for the 4th generation mobile services, also called LTE, might affect the quality of the DTT signal. That is why it is paramount a detailed analysis of possible interferences to ensure the correct reception of the DTT signal and decide whether carry out some action, or not, on the facility; e.g. install filters, etc.
The H60 meter incorporates new features that analyce LTE signal to propose the installer the best solution.
LTE Check
This function assesses the need to insert a filter LTE into a system of Digital Terrestrial Television (DTT), in order to minimize interferences that may cause the LTE signal on the DTT signal.
Should be necessary to insert a filter, it is shown on the screen (in the bottom right corner of it with the text "Filter Required LTE"), and recommends the most appropriate Televés filter (in the lower left corner is displayed: "Rec.filter" )
Otherwise, if it is not necessary to insert a filter, instead of "LTE Filter Required" it will be displayed the text "LTE Check OK".
The display will represent simultaneously the spectrum of the upper UHF band (closest to the LTE band ), the spectrum of the LTE downlink and the spectrum of the LTE uplink.
In addition to the recommended filter, you will be able to select various Televés LTE filters and visualize an onscreen simulation of how the system would respond with that LTE filter inserted at its input (orange trace). Use the rotary selector to choose one of the filters available. The selected filter is displayed on the bottom center of the screen. There is also the option of not selecting a filter.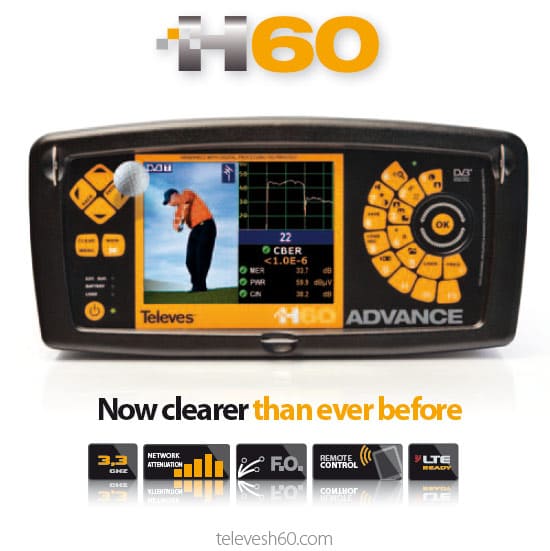 LTE vs TV
By means of this function it is possible to simultaneously display the LTE signal spectrum (downlink and uplink) on the top of the screen, and the spectrum of any TV channel at the bottom.
Select the channel, or frequency, of the television signal to be visualized using either the rotary selector or the CHAN/FREQ keys, as usually.

Downlink – Uplink
This function allows to display both uplink and downlink spectrums of the LTE signal, and provides power measures of the channels they contain


More TV programs for the same price
The vast majority of televisions on the market have simultaneously COFDM and QAM tuners.
By a channel scan using Antenna TV option, the available channels come from the DTT service, always through the TV COFDM tuner (DVB-T).
The QAM tuner (DVB-C) works the Cable TV option is selected. Cable operators are providing services through this type of modulation, and they transmit encrypted signals only accessible to subscribers.
In the hospitality sector and similar facilities, where DVBS/S2 to COFDM transmodulators are needed, it is impossible to have a DTT multiplex with all original services of the satellite.
However, thanks to TVs with QAM tuner, installing DVBS/S2 to QAM transmodulators makes possible to transport to a TV every service transmitted by a satellite transponder.
Thus, with the same number of transmodulators installed, a greater number of television programs would be available on your home or establishment


Panoramahaus Hotel in Austria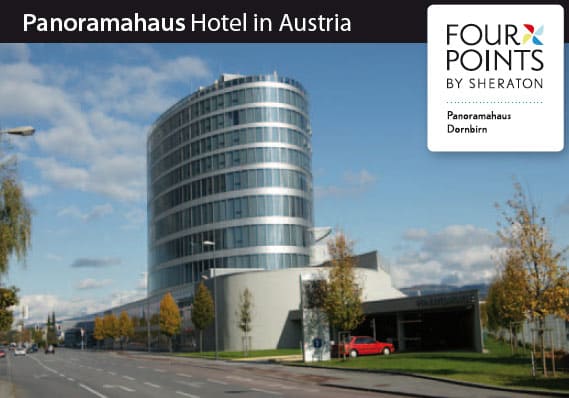 The Sheraton Panoramahaus Dornbirn Hotel is situated in the Austrian locality of Dornbirn, near the borders of Germany, Liechtenstein and Switzerland, the Rhine River and the Lake Constance. This modern 4-star business hotel, belonging to international hotel chain Four Points, is one of the most important and best equipped in the federal state of Vorarlberg in Austria.
This modern establishment has recently renewed its analog headend for a up-to-date T.0X system. The update of services consisted of replace the QPSK-PAL for a DVBS-QAM headend, so the distributed services have been multiplied, besides providing the hotel with high definition signal and pay television. The T.0X modules used have TWIN output so no need much space to mounting the equipment, and thus, it provides a appreciable energy savings.
This renewal not only means more channels, but it provides an extraordinary competitive advantage, since guests have now an audiovisual offer according to their needs. The QAM headend has been provided by Sonepar-Dornbirn




Amplification, NanoKom series
Stable output level with anti-LTE/4G selectable filter
---
The current production capacity of Televes, makes possible a high degree of miniaturization in its products. The result of this new way of manufacturing, are NanoKom Series amplifiers.
This series consists of two ranges: mast amplifiers and domestic amplifiers. Both models include a new concept of adjust: USOS (User Selectable Output Signal). USOS allows the installer to select an output level of the amplifier, and keep it unaffected by fluctuations in the signal.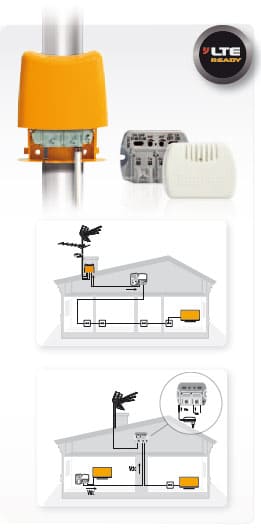 NanoKom series is ready for the arrival of LTE/4G, preventing the passage of telephony signals, by means of a powerful filter activated by a switch.
The mast amplification range also stands out because of its excellent noise figure (close to 1dB in UHF), which makes it specially suitable for weak signals.
Size is one factor to be highlighted in the domestic amplification range. An external PSU allows its installation in confined spaces. The possibility of remote powering is also an advantage when installing inside of isolated and/or small-sized enclosures
REF.
DESCRIPTION
Mast amplifiers
561701
3e/1s UHF[dc]-UHF-VHFmix 12...24Vdc without USOS
561801
3e/1s BIII-UHF-FMmix 12...24Vdc with USOS
561501
3e/1s BIII/UHF[dc]-FMmix-FImix[dc] 12...24Vdc with USOS
561601
3e/1s UHF-VHFmix-FImix[dc] 12...24Vdc with USOS
Domestic amplifiers
562701
1e/1s VHF/UHF
562711
1e/1s VHF/UHF (PSU not included)
562702
1e/2s VHF/UHF
562712
1e/2s VHF/UHF (PSU not included)
562703
1e/(2s+TV) VHF/UHF
562713
1e/(2s+TV) VHF/UHF (PSU not included)
579901
Power supply unit "jack" 12V-0,2A