Dokumentation
Komplett och uppdaterad service- och produktdokumentation tillgänglig för visning och nedladdning. Välj en kategori för att inleda din sökning.
Detta innehåll finns bara tillgängligt på engelska
InfoTeleves 45 (December 2017)
General Information
Televes Corporation opens a new era in Communication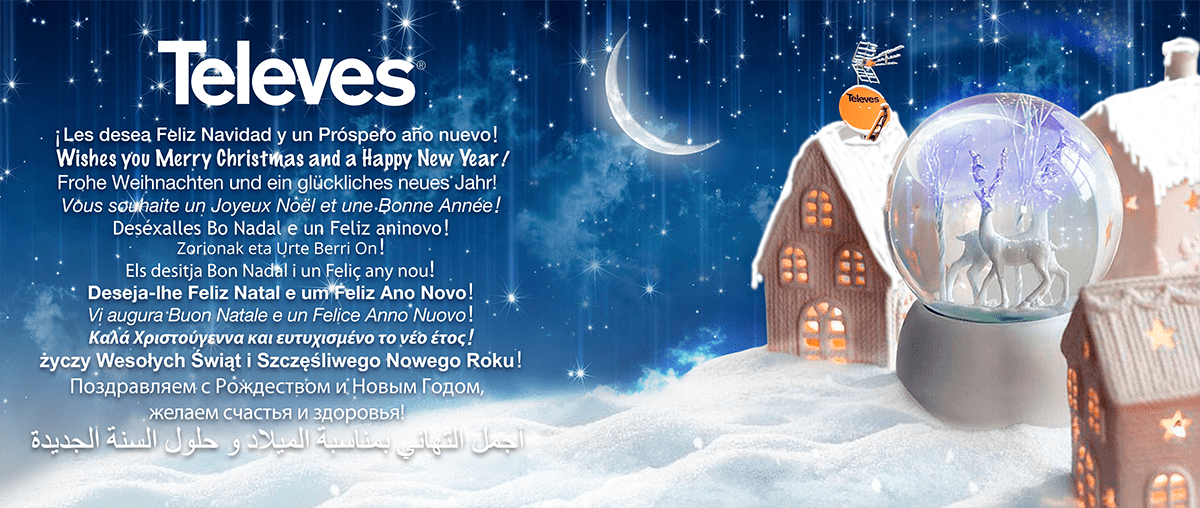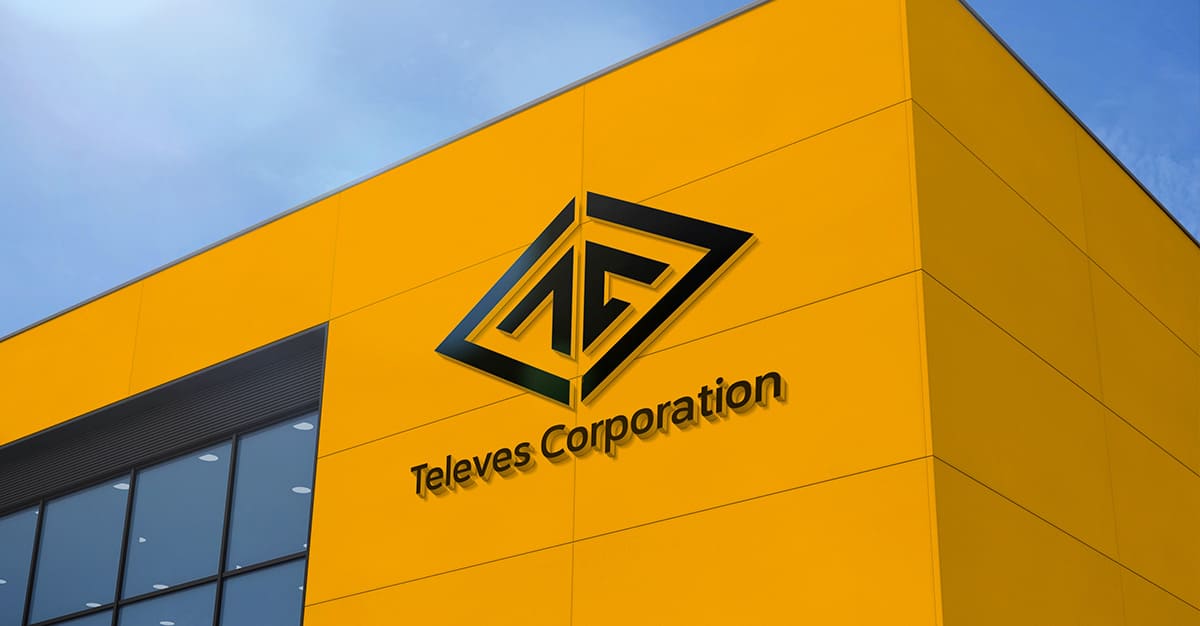 Televes Corporation is now a consolidated business reality. It consists of over 20 technology firms –all of them leaders in the design and development of equipment for all kinds of telecommunications infrastructures, for homes, buildings and cities– that work together with the best synergies towards the common objective of meeting the requirements of each market niche in a customized way, while sharing the common values at the core of its main brand, Televes.
To convey this reality, we have launched an ambitious communication campaign that sets forth both our values and capabilities through a new Corporate Identity line, which prime representative shall be the new website televescorporation.com. This new era in communication will set the tone for the evolution of Televes Corporation, always focused on growth, internationalization and diversification, which has led us to adopting the role of added-value service facilitators through the telecommunications infrastructures in homes, buildings and cities..
The new Televes Corporation website reflects the organization of its market niches in business lines
The website architecture, together with the dynamic and intuitive design, will allow the user to easily get to know the companies in the Corporation, as well as their business areas: Telecommunications infrastructures and TV, Hospitality, Social and health care, and Professional lighting.
televescorporation.com represents the dawning of a new era to the extent that the Televes Corporation already is a digital native that develops in an integrated environment with resources for real-time interaction with our audience: clients, providers, regulatory bodies, professional environment, the media, and of course, employees and partners
DeDiscover Televes Corporation at www.televescorporation.com
Televes in the world
XVIII FENIE National Conference, DRT4ALL and RIES 2017
XVIII FENIE National Conference
(Saragossa, Spain) 25th-26th octubre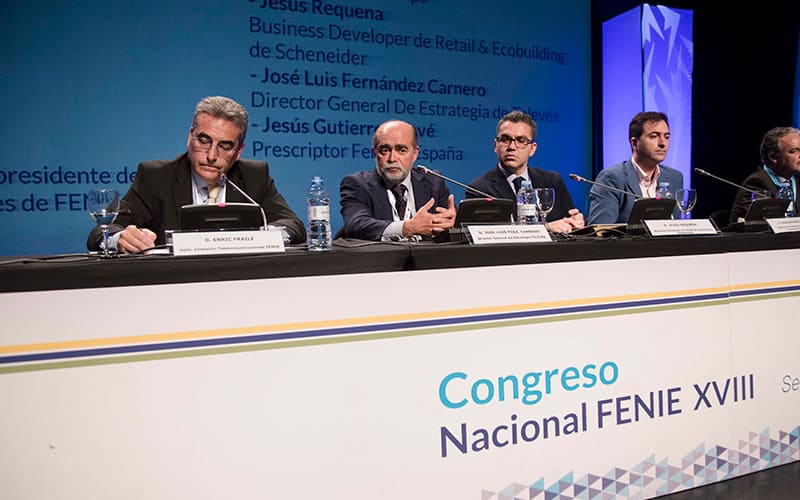 We ran an installation and measuring workshop. We took part in the round table "Smart Buildings and the installer", where we defended our notion of the Smart Building as a key element for the development of Smart Cities, able to rise to the big challenges of the cities: mobility, air quality, safety, energy efficiency, etc.
European technological projects
DRT4ALL
(Malaga, Spain) 27th September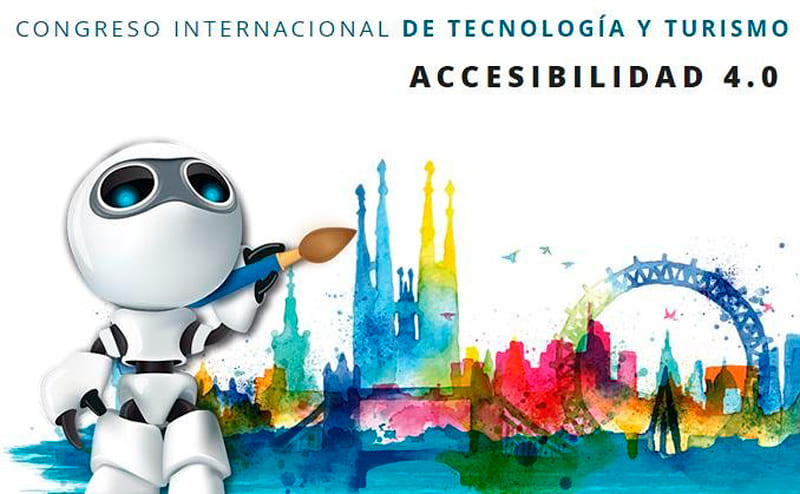 In Technology and Tourism for All #DRT4ALL convention organized by the ONCE Foundation, Televes presented SmartAssist, a different project with a fresh perspective on remote care.
RIES 2017
(Ourense, Spain) 25th-26th September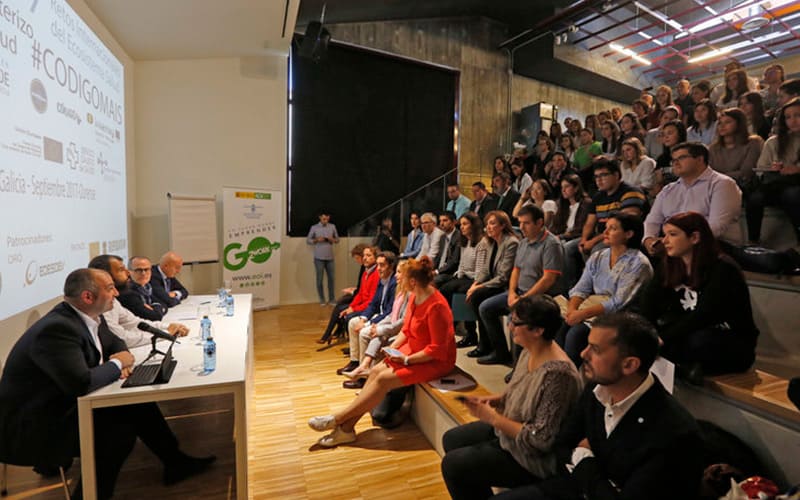 Healthcare Ecosystem International Challenges (RIES, in Spanish) is an annual event organized by Clúster da Saúde de Galicia (Galician Healthcare Cluster) in cooperation with ECHAlliance. Televes presented the SISENS project. The project consists in a Smart Room capable of monitoring the patients' vital signs, increasing safety and reliability, while contributing to hospital management optimization
FAQs
How to download H30FLEX meter's measurements?
A quick and easy way to display measurements on the PC.
The first thing is to connect the H30FLEX meter to the computer using the USB. The driver that recognizes the H30FLEX is usually installed automatically and so the meter is immediately detected. Otherwise it will have to be manually installed (instructions can be found in the "Driver installation" section, from 3.1 to 3.8, in page 18 of the manual): en.televes.com/H30FLEX_manual
Once the driver is installed, you will need to open a browser (Chrome is recommended), type http://h30.flexin the address bar, and press Enter. The first window (1) of the web application will be displayed, where you will have to select the Measurements option in the menu bar.
This window will display all the Datalogs stored in the H30FLEX, grouped by dates and standards (DVB-T, DVB-T2, DVB-S, DVB-S2, analogue...). Measurements can be displayed in calendar mode (2) as well as in list mode (3). They can all be selected at once for deletion or export.
The Datalog download to the computer is carried out using the buttons on the top right side; the format used is xls. Each Datalog will produce a file; whenever multiple files are selected, they will all be downloaded into a single compressed .zip file. To display all the data associated with the Datalog measurements you only need to click on the name, and a new window will pop up (4)
Training
Optical LNB installation
All the tips and tricks for an appropriate implementation.
The connector is one of the most sensitive elements in an optical installation, since it is prone to multiple losses. Knowing how to differentiate an angled physical contact (APC) from a 0° straight one (PC or UPC) is essential. Differentiation is easy, since an APC connector (Angled Physical Contact), with an 8° angle is always green. As a rule, always put together connectors with the same angle to avoid high losses or even the absence of signal.
The Televes optical LNB are used as straight connectors (PC or UPC: Physical or Ultra Physical Contact) and as FC type connectors (Ferrule Connector), namely connectors with a screw system that keeps the ferrule into place.
It is crucial to consider that system-compatible fibre must be single-mode (SM) instead of multimode fibre (MM). Single-mode fibre allows for longer distances than multimode fibre, since a single light mode is propagated in parallel with the fibre's axis.
PC contact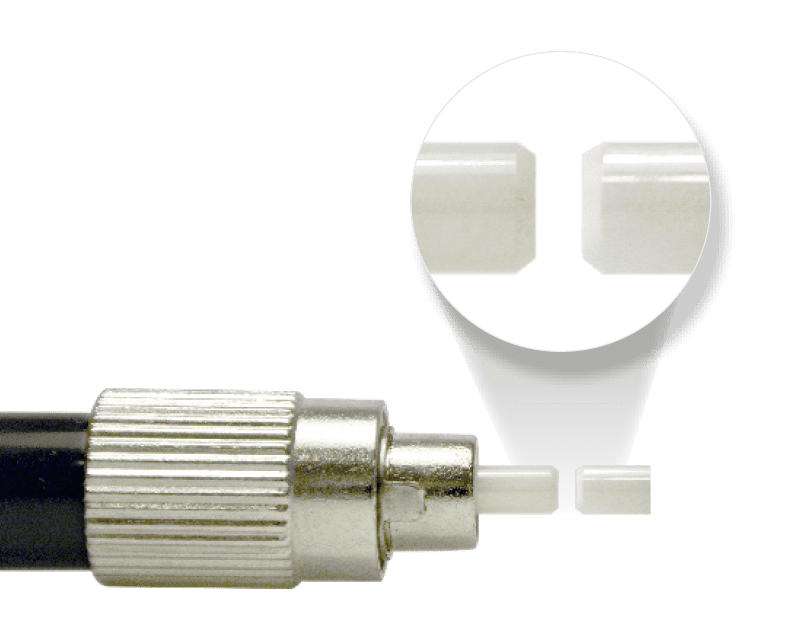 APC contact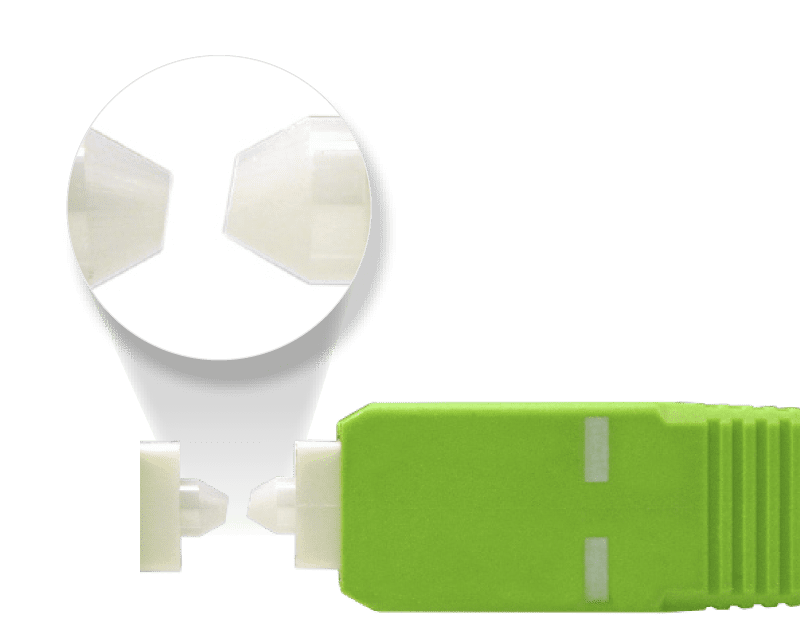 Fitting connectors based on finish
The optical LNB have an optical output power of 7 ±2 dBm. Optical converters usually work in the 0 dBm to -15 dBm range. If you take the direct output signal of the optical LNB to the converter, it will saturate. The signal will have to be attenuated until an optical power inside the converter's operating range is achieved. To this end, the use of attenuators will always be required, provided that there are no other split, connector or cable losses between LNB and converter (only in the 0.3 dB/1000 m range). Televes provides three FC/PC connector attenuators with 5 dB, 10 dB, and 15 dB losses respectively (References: 2364, 2365, and 2366 respectively).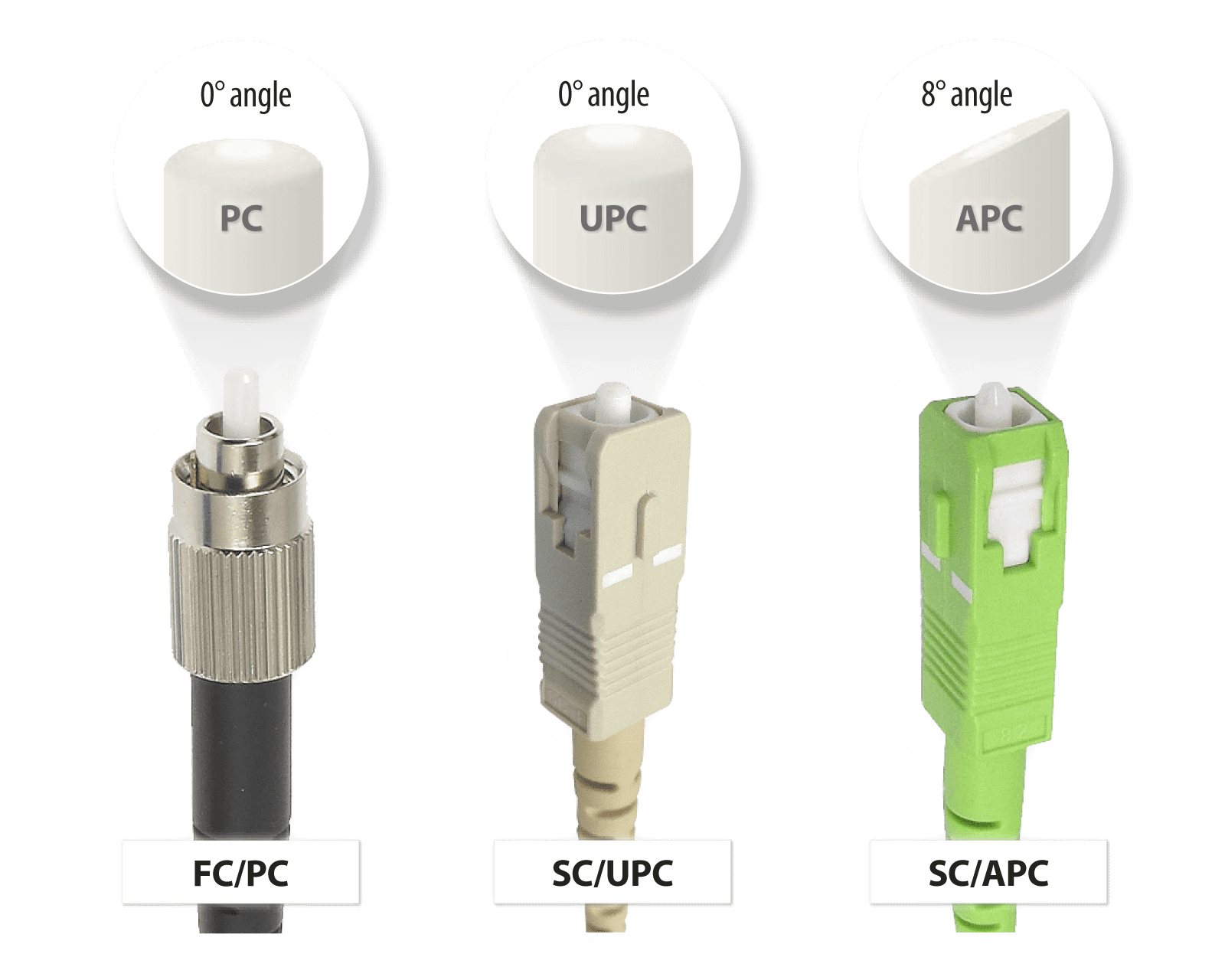 Ferrule finish types
To be considered during installation:
The optical LNB is powered through the coaxial cable. It is recommended to protect the connector with an F cap to ensure tightness.
Optical connectors are always provided with a protective cap. Given the ferrule they are meant to protect is very sensitive, it is recommended not to remove the cap until the connection will actually take place, to avoid dirt that could result in transmission losses.
Due to the ferrule's high sensitivity, never apply any load or make any contact on it.
The connector must fit straight into the groove as shown in the picture
Ideas
ArantiaCast solution for Hospitality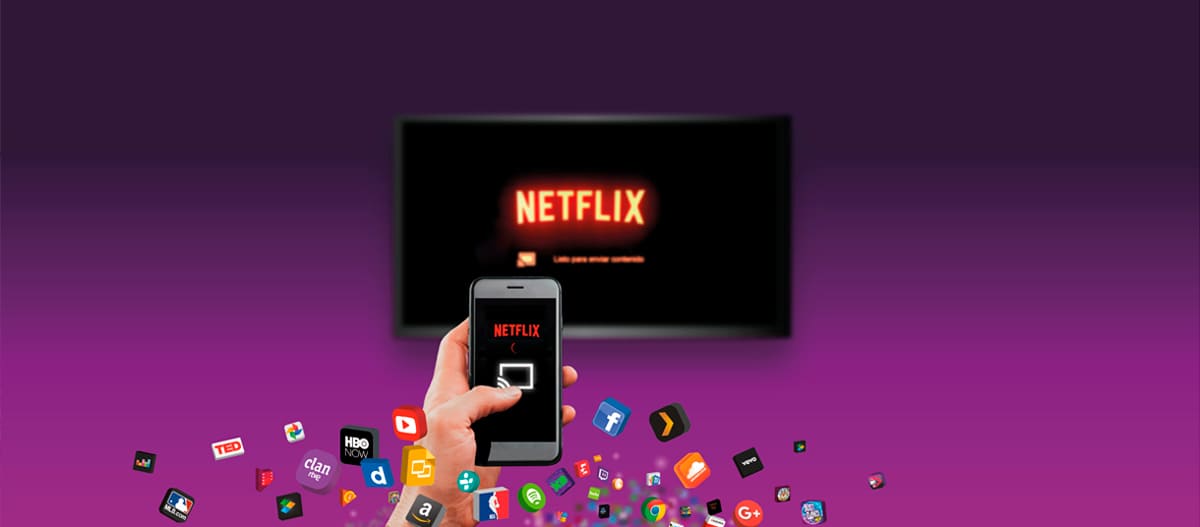 One of the most popular ways of multimedia content consumption is using an Internet connection and a wireless device, such as a smartphone or a tablet. In such cases, the screen size represents a serious handicap; this is why there are options allowing the content projection on a television set.
Casting is a solution that, rather than projecting the smartphone screen on the television set, actually projects the application that is being executed. Once an app is initiated on the smartphone, it can be sent to Chromecast, which takes care of its execution from then on, freeing the mobile device and allowing it to receive calls or execute other applications.
The Google Chromecast-based casting is compatible with over 1,000 applications.
ArantiaCast is a streaming system that allows each user in a multiuser environment, such as hotels, to have its own exclusive Chromecast associated device. Without any login or password, and with automatic disconnection when the hotel host checks out through the hotel's PMS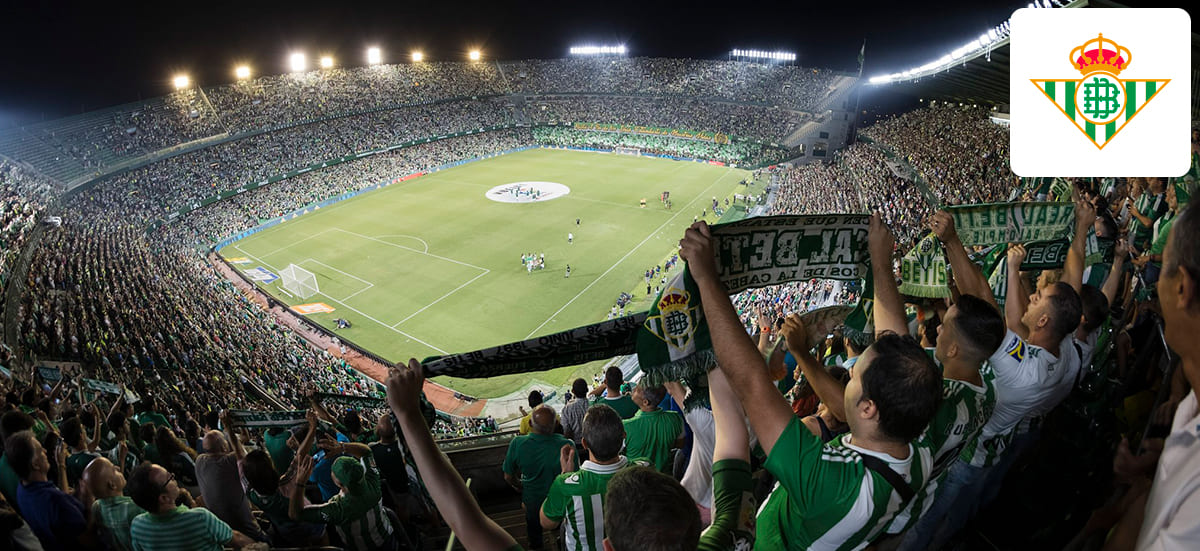 The Benito Villamarín stadium is the epicentre of the whole green-and-white organization. The new Gol Sur works allowed for the creation of a Premium zone, known as Gol Sur Experience.
Fans are thus offered a privileged environment to enjoy football in a unique way. All underpinned by a cutting-edge Televes infrastructure that provides a comprehensive and promising solution for the communication requirements of Real Betis Balompié.
The Benito Villamarín stadium thus becomes a leader in the League for being one of the first football stadiums to adopt the "Smart Stadium" concept

Did you know...
Televes won the gold medal in the Belgium International Inventors Fair, back in 1969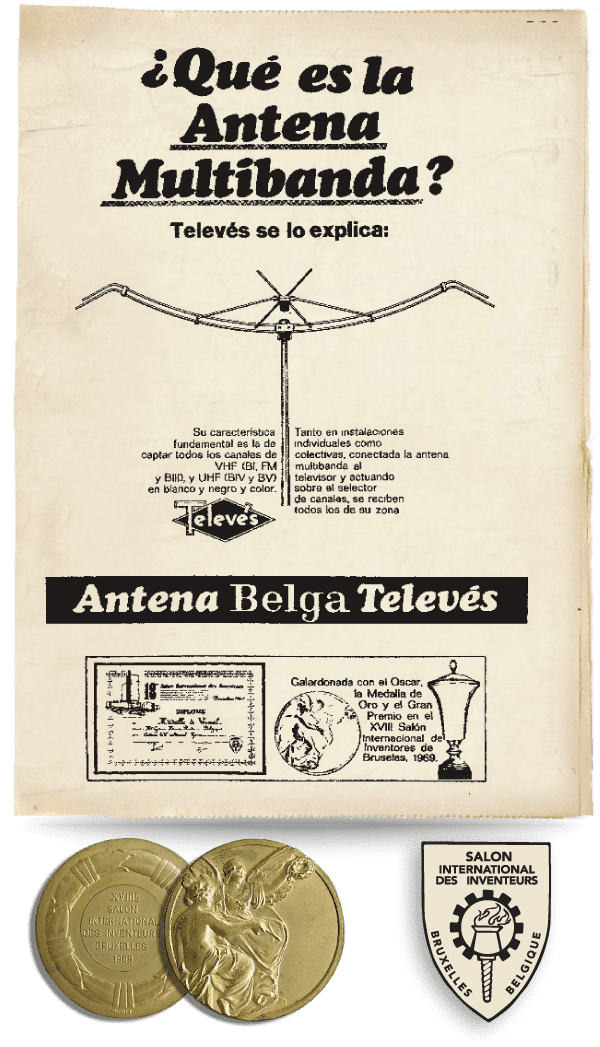 In the digital communication era, messages devoid of content are easily produced. However, Televes remains true to its innate condition of developing technologies that improve the audiovisual experience in the home.
There are documented facts, like the one that took place back in 1969, when the Televes Multiband antenna was awarded the gold medal and the Big Price in the XVIII International Inventors Fair held in Brussels. The picture shows the diploma, the medal, and the trophy we received and remember today as one of the first international acknowledgements of our capacity for innovation
Technological trens
HEVC, the last frontier of video compression development
The last stage in the evolution of video compression systems from MPEG2 (1995) to H.264 (2003) is HEVC, approved in 2013.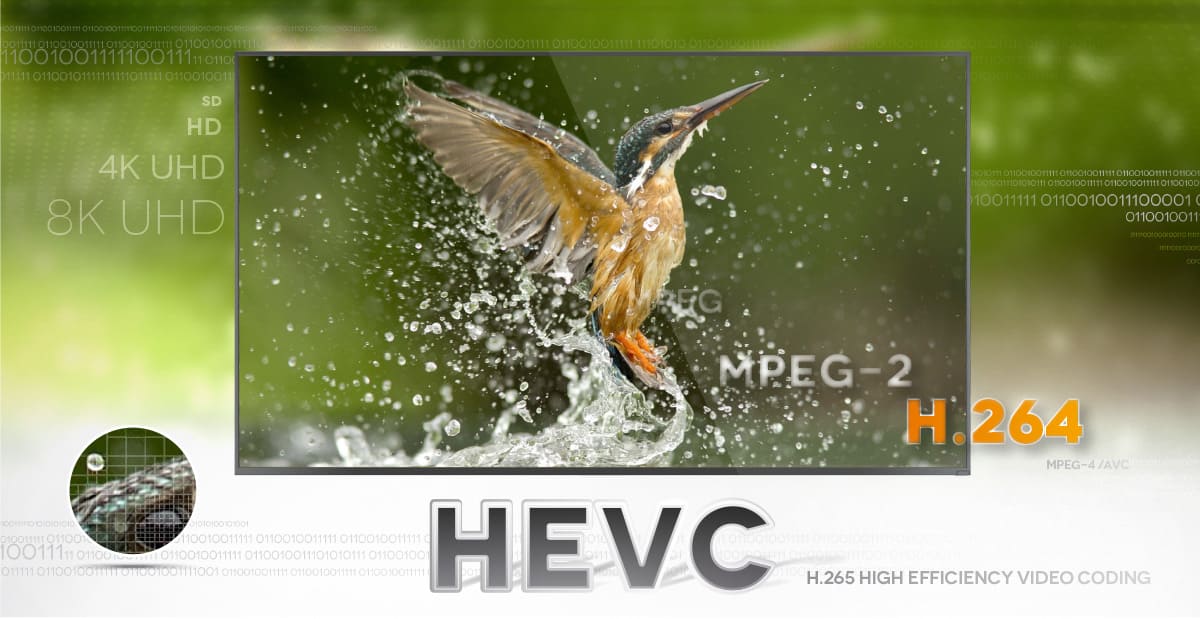 HEVC achieves an almost 50% reduction in bit rate as compared with its predecessor, H.264
HEVC is the outcome of the joint effort of ITU Video Codification Experts Group and ISO/IEC MPEG (Moving Pictures Experts Group). The first facilitates telecommunication standard creation and adoption, while ISO/IEC manages the standards for the electronic industries.
HHEVC is the inevitable successor of H. 264 for video encoding, and was designed following a planned evolution for video encoding. The benefits obtained from HEVC are indeed significant, since it provides an average reduction in bit rate of 50% for a given video quality as compared with H.264, a higher video quality for similar bit rates, or a better interoperability, optimized using a specific syntax that simplifies implementation.
There are multiple and obvious applications for HEVC. First, for streaming on mobile devices. A bit rate reduction of almost 50% translates into a direct reduction in the distribution cost of mobile operators. For a given video quality, they will not have to deliver the same amount of data as they do today with H.264. Together with the new streaming techniques (HLS, DASH), HEVC will boost OTT (Over The Top) video distribution platforms, complementing linear video distribution. The mobile devices' hardware will be able to decode HEVC, obviously.
Furthermore, HEVC also contributes to the development of 4K and 8K high-resolution video. Considering, for example, that 4K resolution requires handling four times as many pixels as a resolution of 1080 p, the efficiency provided by HEVC makes 4K broadcasting using DTT or satellite come true.
HEVC is a big step forward in video compression technology. It provides an additional set of tools and algorithms, while providing parallel processing capabilities for efficiency optimization, allowing for higher quality and resolution video streams, and improvements as compared with current coding systems; basically, providing a quantified improvement in the quality of user experience.
Applications for HEVC coding will emerge in multiple fields, such as broadcasting (DTT, cable, and satellite), IPTV distribution, or video surveillance systems
Announcement
Televes Corporation, the power of synergies