Dokumentation
Komplett och uppdaterad service- och produktdokumentation tillgänglig för visning och nedladdning. Välj en kategori för att inleda din sökning.
Detta innehåll finns bara tillgängligt på engelska
InfoTeleves 46 (March 2018)
General Information
Televes newsletter opens a new era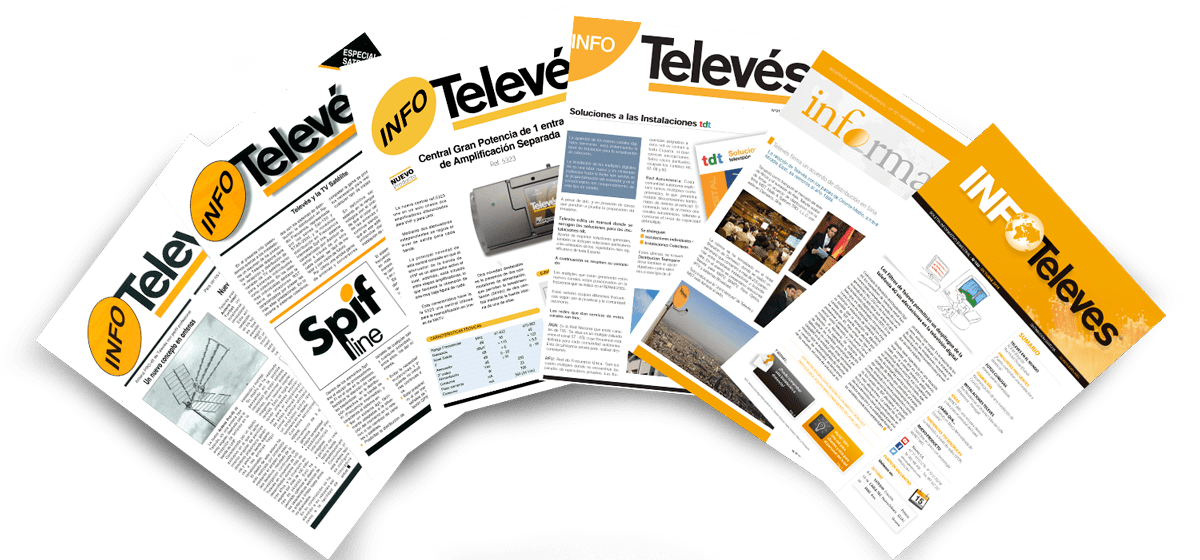 For over three decades, our Info newsletter has been bringing Televes' clients, providers, collaborators and friends the current company's and products' news, as well as the most relevant news in our technological and business environment.
Throughout this period, this means of communication has grown in parallel with the company, including editions in up to seven languages and improving both the amount and the quality of the contents, with sections devoted to technical matters, showing the ever more active presence of the company in technical and business forums, providing useful ideas, showing installations equipped with advanced solutions, or casually going through the milestones of Televes.
The time has come for Info to take the leap into a new era, the new era the company is entering with the important changes it is going through.
Our newsletter is renewed not only to keep being useful, enjoyable, and close to the readers, but also to give a faithful picture of the Televes Corporation.
Our newsletter is renewed not only to keep being useful, enjoyable, and close to the readers, but also to give a faithful picture of the Televes Corporation
Thus, the frequency changes from bi-monthly to quarterly, the design changes to match the new corporate image, and new sections are created to reflect the dimension and diversity we have achieved as a result of the expansion of our operations into emerging markets such as social and health care, communication infrastructures, or professional lighting.
Equally important is the space we will devote to giving voice to the main figures in everything our brand represents: the people. The new section "Our people" will include interviews with different people in the organization that will be sharing their everyday experiences in Televes.
Our people
Javier Esteban, technical department, GPON solutions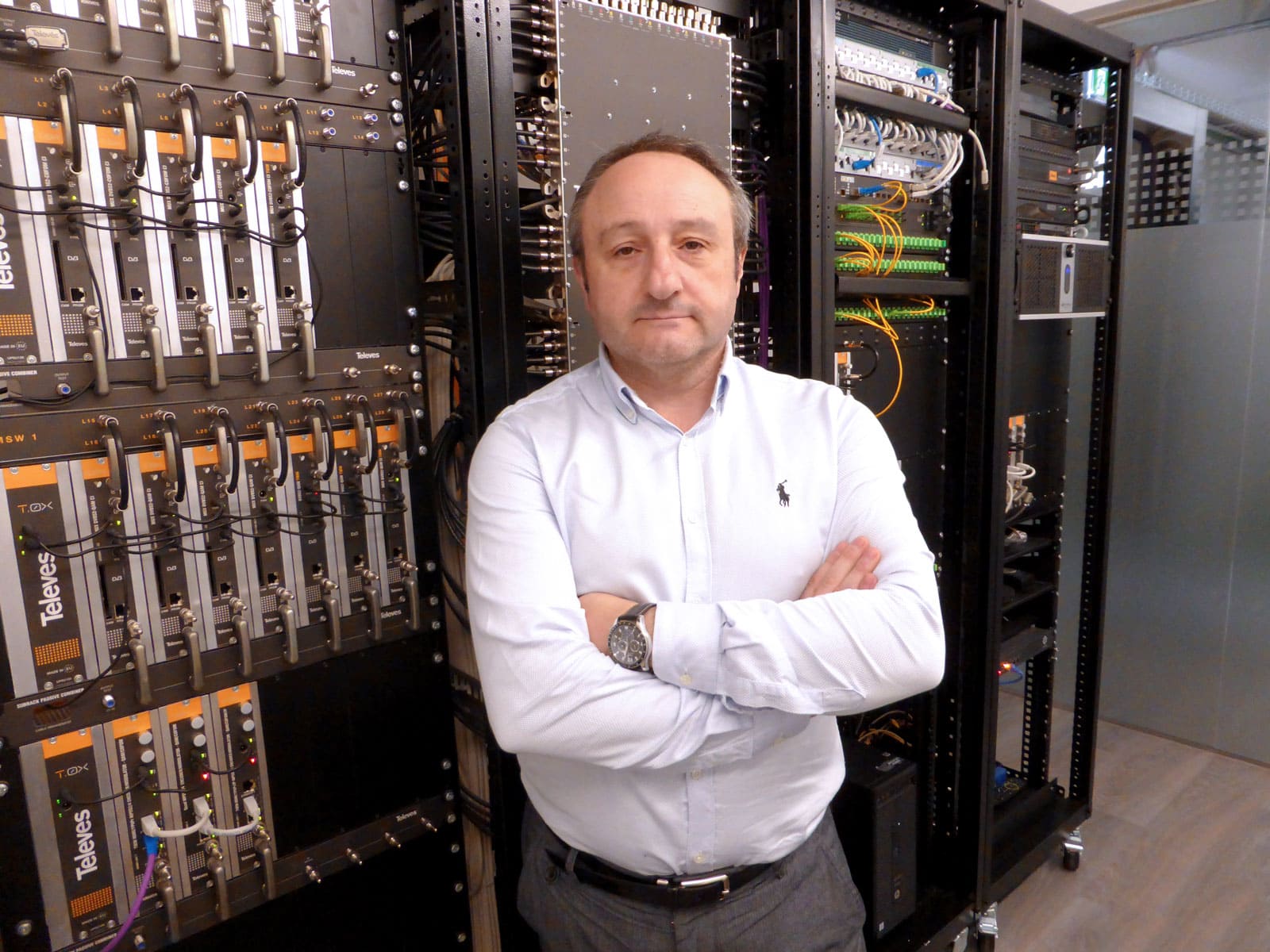 After almost three decades in the company, Javier Esteban never stops learning. His work requires him so, in order to keep up to date with the ongoing advances in technology and meet clients' needs and expectations. Now it's time to promote ourselves in a new market.
What is your job in Televes?
I work for the Communication Infrastructures department; we provide support to clients that are installing GPON and IPTV networks. This support may be provided via telephone, video conference, and occasionally in person. New product training is one of the key aspects of our relationship with the client.
How long have you been working for this company? How was your career path in Televes?
I joined Televes in March 1991. From the very start, I have always been involved in commercial-oriented tasks. Initially, my job consisted in providing support to both clients and our commercial network. It not only consisted in providing direct support but also required market research, so for a long time I was involved in counselling and business planning tasks.
"Making ourselves known to a whole new client's profile represents a real challenge"
What is the most satisfying aspect of your job?
The group of colleagues and the continuous evolution of technology. In this respect, I have experienced the private television channels' deployment, the analogue switch-off, and the digital dividend. Now it is the Internet and the optical fibre.
And what is the hardest?
The technological evolution towards the IP world requires to be constantly acquiring new concepts. Sometimes, the approaches of this new client type can pose an important challenge.
What are, in your opinion, the essential values of our company?
The primary value of Televes lies in its commercial network. Truly committed people that need to know how to defend such a wide catalogue as Televes', which ranges from LED lighting to professional field strength meters, including IP networks.
Tell us about an ongoing project you consider important.
The department I belong to was created last year. We are working to make ourselves known to a whole new client's profile, which represents a real challenge and a great deal of effort on a daily basis. At the end of the day, it all comes to winning projects.
Televes Corporation
The power of synergies
The term "synergy" defines an action in which multiple causes working together produce better results than the sum of the individual results achieved by each of them acting separately. Well organized, the whole is much more than the sum of its parts.
We have come a long way since the foundation of Televes in 1958, always focused on being at the forefront of technological development. The desire to drive specialization in strategic areas gave rise to a process of company creation based on specific companies oriented to meet specific sector requirements. This was how Televes Corporation was born in 1989. This concept is consolidating now to foster the synergies created inside the group.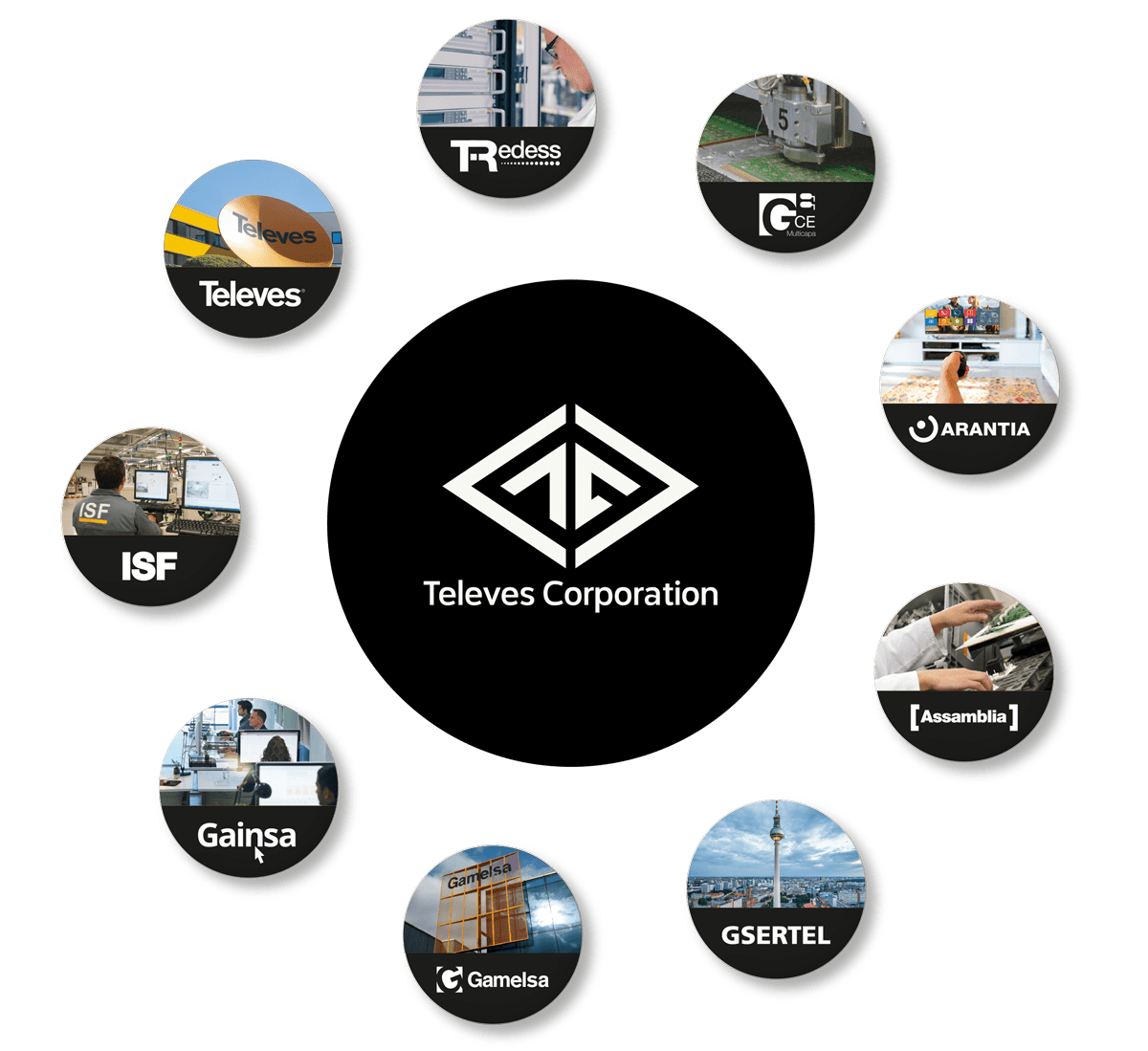 Televes Corporation is the core of a group of technology firms devoted to the design, development and manufacturing of equipment for all kinds of telecommunications infrastructures for homes, buildings and cities. By working together we will succeed in conquering new market niches with substantial technological content, thus achieving the same leading position we currently have in our traditional sectors of activity. We have already made significant progress in some of these sectors, such as social and health care, communication infrastructures, or professional lighting technology.
But we want more, and the way to achieve our goal is by putting Televes Corporation into use through the power of synergies.
By fostering Televes Corporation we will gain a leading role in new market niches with substantial technological content.
Product news
MOSAIQ6, a portable high-performance and high-precision field strength meter
A real touch screen with advanced functionalities and an outstanding measurement precision
Thanks to the MOSAIQ6 touchscreen interface with gesture-based control it can be used as a smartphone or a tablet. This innovative interface takes full advantage of touch flicks (tap, double-tap, drag, slide, pinch, or spread), making it very easy to work with this high-performance meter.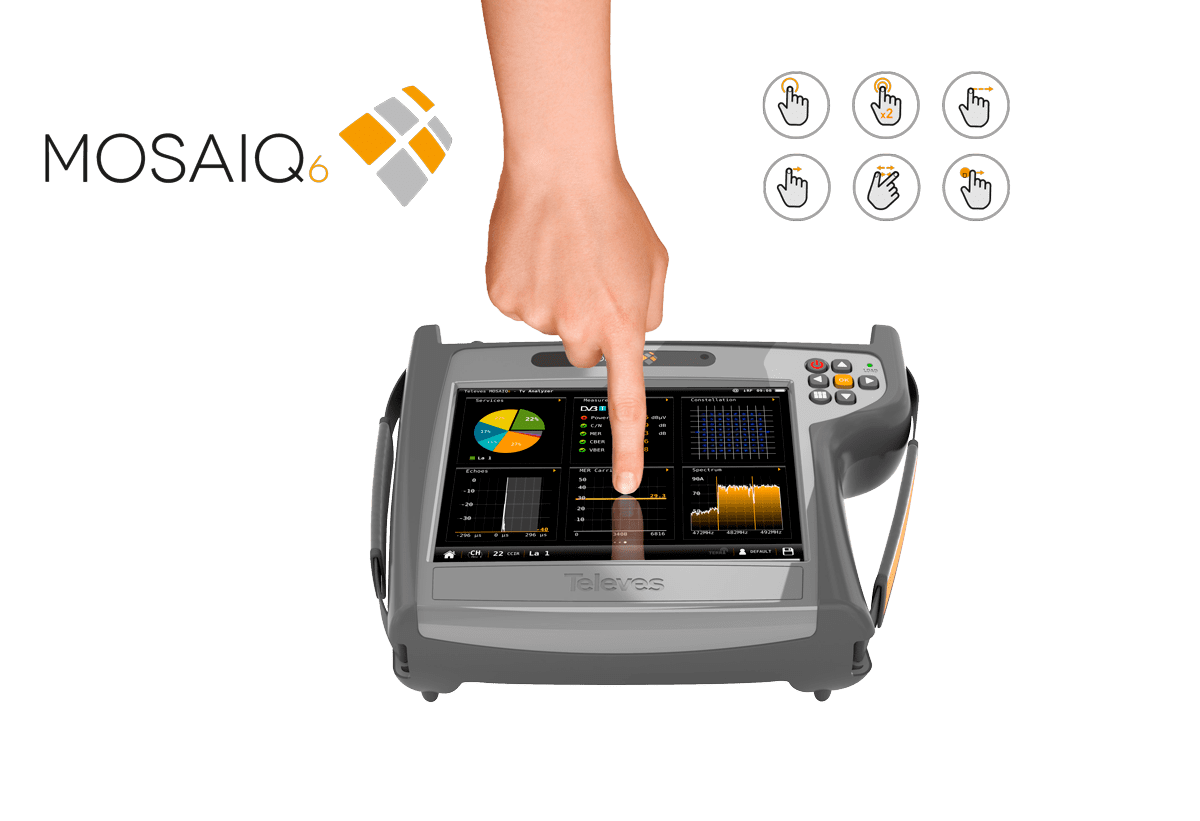 MOSAIQ6 IS A multi-standard meter capable of performing both analogue and digital measurements, either IPTV, optical, or RF; furthermore, it covers all the standard range, from FM and DAB/DAB+, through DVB-T/T2, DVB-C Annex A/B/C and DVB-S/S2/S2X, to 802.11 standards for wireless local networks (Wi-Fi).
Some of the advanced functionalities are worth highlighting, such as:
Waterfall
A graphical representation of the signal in both time and frequency, to analyse transient interference and/or signal fading.
IPTV
Allows both unicast and multicast streams demodulation and analysis, not only by showing the video material, but also by displaying the total bit rate total and the bit rate per service, as well as other service parameters such as SID, VPID, AID, or the appropriate video profile.
LTE Check
Allows the analysis of the impact of interfering LTE signals on DTT channels, while identifying possible filters to be included in the installation being measured.
GPS option
With the GPS option, measurements can be displayed on a map at the very same spot where they were actually taken, thus facilitating coverage analysis.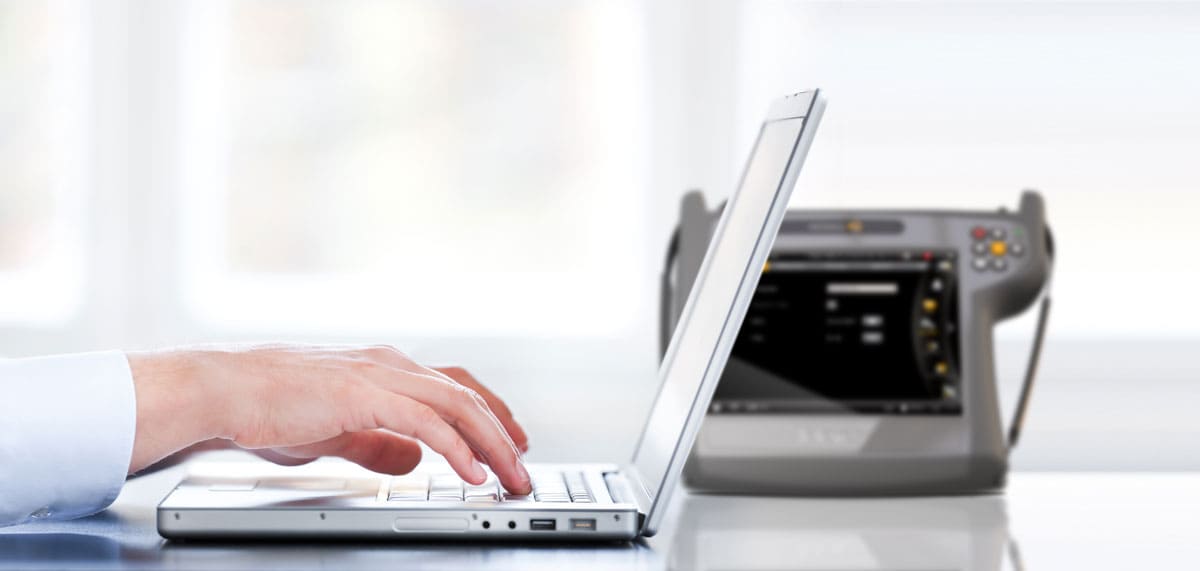 MOSAIQ6 is equipped with a web interface accessible both locally and remotely that allows measurement management, channel plan and area modification, quality profile editing, and clone execution inter alia.
en.televes.com/mosaiq6
Ideas
Generating multiple Wi-Fi signals with an ONT
Multiple installations in which services are distributed over Wi-Fi may require to generate multiple signals in order to differentiate services or clients. Hotels, for example, usually have a Wi-Fi network for clients and another for staff. Therefore, the APs (Access Points) must be capable of generating both signals as independent networks.
The ONTs from Televes are capable of producing 4 Wi-Fi signals per interface (the ONT with 2.4-GHz and 5-GHz interfaces can generate up to 4 Wi-Fi signals on each interface).
This is why the segmented services coming through the fibre have to be directed to the main Wi-Fi interface and the appropriate VAPs (Virtual Access Points)
FAQs
Why is it not possible for multiple fully functional satellite receivers to coexist in a TV installation?
The reason is that in satellite reception there are multiple working bands (4 voltage combinations - 13 V and 18 V - and tones - 0 KHz and 22 KHz -) that cannot share the same cable. The mentioned bands are: Low Vertical Band (13 V + 0 KHz), High Vertical Band (13 V + 22 KHz), Low Horizontal Band (18 V + 0 KHz), High Horizontal Band (18 V + 22 KHz). In order to select one of them, the appropriate voltage and tone have to be sent to the LNB. In a conventional installation it is up to the satellite receiver to perform this task.
When the installation has a single satellite receiver, it is the receiver itself which requests the desired band at any time and no collisions take place. Conversely, if several receivers are installed and each of them requests a different working band, the LNB will only take the higher voltage and higher tone into account. In other words, if a receiver is sending 18 V + 22 KHz (High Horizontal Band) and another one is sending 13 V + 0 KHz (Low Vertical Band), only the receiver requesting the High Horizontal Band - the highest of the requested bands - will work properly.
One solution would be to install an IF multiband amplifier like Ref. 5363. It would feed the LNB with a fixed voltage and a fixed tone so that multiple receivers could access the appropriate channels for the selected band
Facilities
Torre Sevilla building (Spain)
The Torre Sevilla project consists of two buildings and includes three independent systems based on Televes' equipment.The telecommunications project for both buildings was carried out by the engineer Emilio Medina Romero.
Torre Sevilla is the first skyscraper in Seville. It consists of a shopping centre, two buildings and a central line.
It was the first skyscraper to be built in the town, the tallest building in Andalusia, and the seventh tallest in Spain. It is located in the southern area of the Cartuja island, in a plot of 59,000 m². The tower's total height is 180.5 metres; the ground plan is elliptical, and it has 37 floors and 3 underground floors.
Televes' equipment is distributed as follows:
Eurostars Torre Sevilla Hotel, which takes the tower's top 13 floors, houses an IPTV headend that was installed by TKT Servicios.
The offices in the building, from the ground floor up to floor 24, are each equipped with a RFoG headend, installed by Fibratel.
The shopping centre in the ground floor is equipped with yet another RFoG headend, installed by LAN System - Cuerva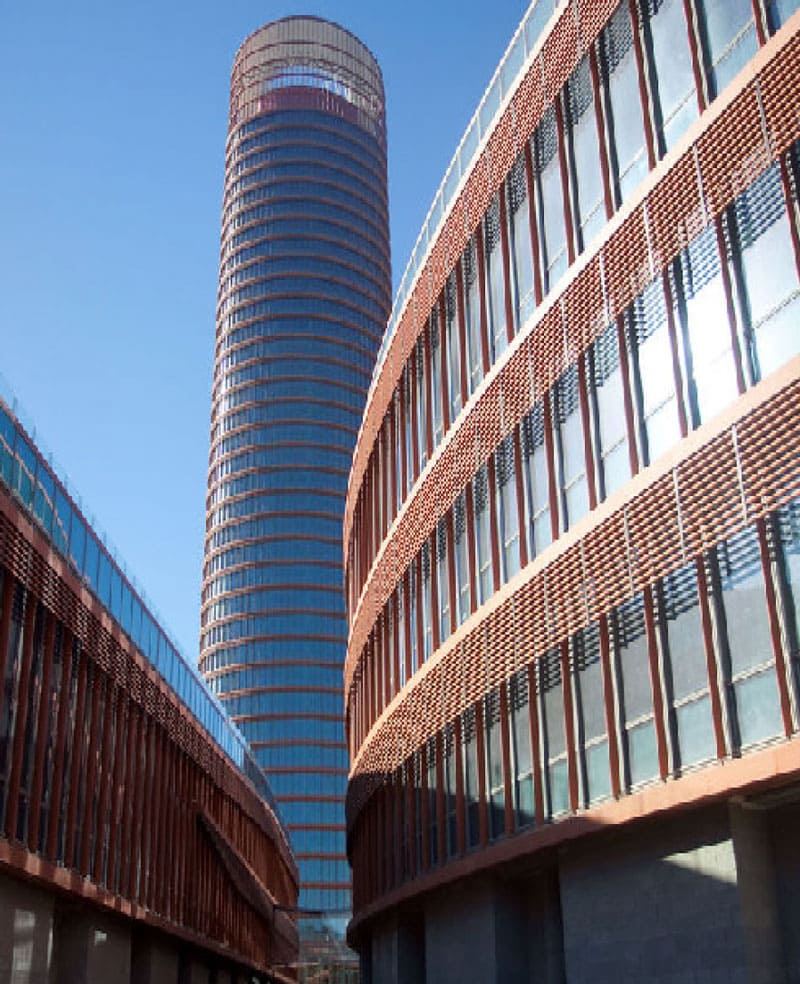 Televes in the world
CES (Las Vegas, USA), CSTB (Moscow, Russia) and Andina Link. (C. de Indias, Colombia)
CES JANUARY 9TH -12TH
Televes is positioning itself in this market by means of the TForce technology, which provides DAT BOSS antennas with the ideal characteristics for the Cord-Cutters and Cord-Shavers migrating from pay-TV platforms to fee-free broadcast.
CSTB (MOSCOW, RUSIA) January 30th – February 1st
We keep expanding our market share in Russia and in the countries under the sphere of influence of the new Customs Union. Our stand, no. 318B, fostered products oriented to the ordering of the telecommunications infrastructures that ensure quality television and data services in buildings and homes.
Andina Link (C. DE INDIAS, COLOMBIA) MARCH 6th-8th
The LATAM region keeps consolidating its analogue television-to-DTT planning. Televes is playing a key role as a technical advisor in the countries seeking to regulate and legislate infrastructures to ensure quality services for the users.
Training
How to get the most out of my H30FLEX web application?
The H30FLEX meter needs to be connected to a PC by means of the USB A male (PC)-to-mini USB B male (meter) cable provided with the product. Usually, the driver that recognizes the H30FLEX is installed automatically and the meter is immediately detected. Otherwise it will have to be manually installed (instructions can be found in the "Driver installation" section, 3.1 to 3.8, in page 18 of the manual en.televes.com/H30FLEX_manual).
Once the driver installed, you will need to open a browser (Chrome preferably), type http://h30.flex in the address bar, and press Enter. The main screen will display the menu with all the functionalities included in the web application: "Summary", "Measurements", "Plans", "SCR", "Quality profiles", "Clone", "Update", and "About".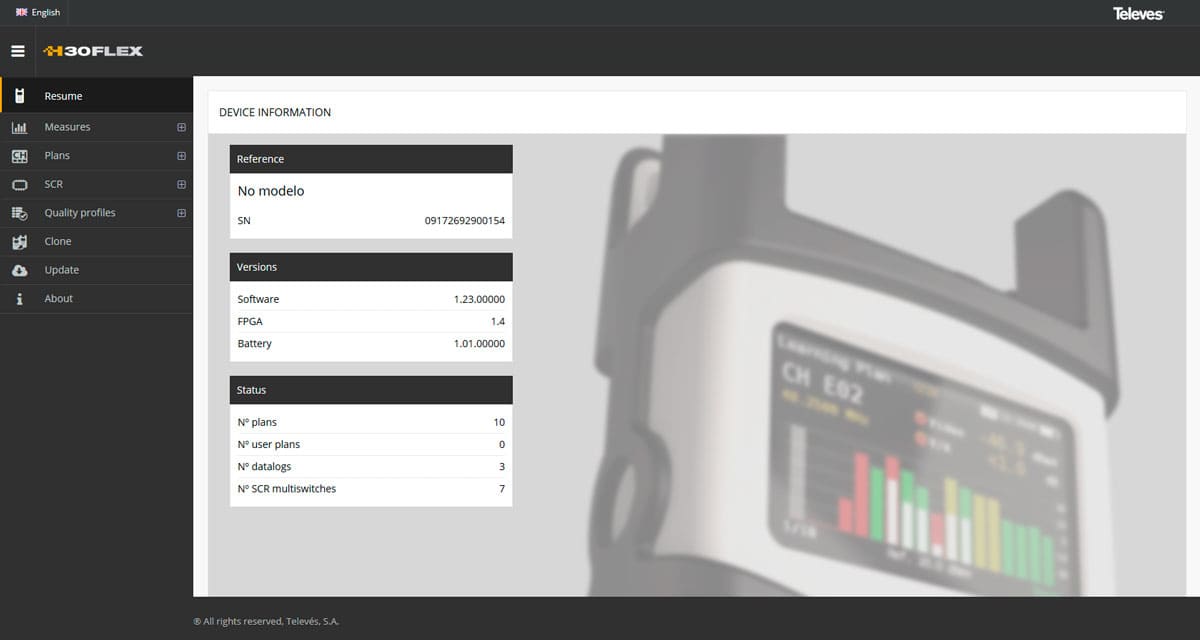 Summary
This menu displays the most relevant meter information at a glance: Product reference, serial number, SW and HW versions, and the number of plans that were created (channels, user, memory, and SCR).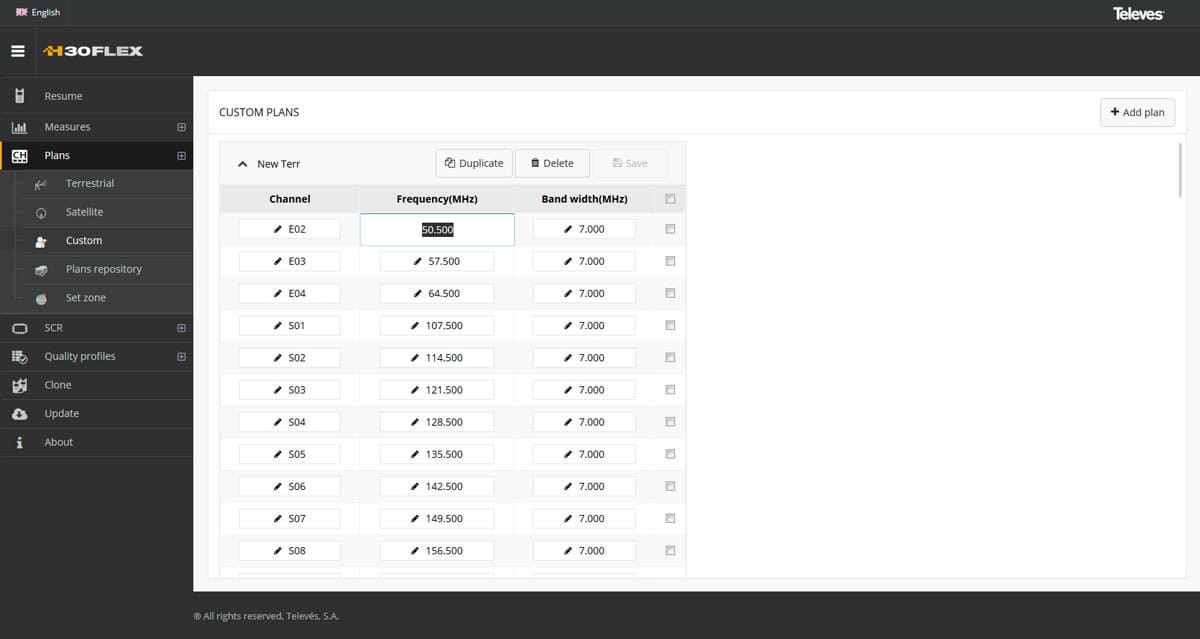 Plans
All the channel plans stored in the meter are displayed in this section, organized in three categories: terrestrial, satellite and user's. The first two are standard for the respective bands; the third is available for the user to edit, either based on a previous duplicate or starting from scratch.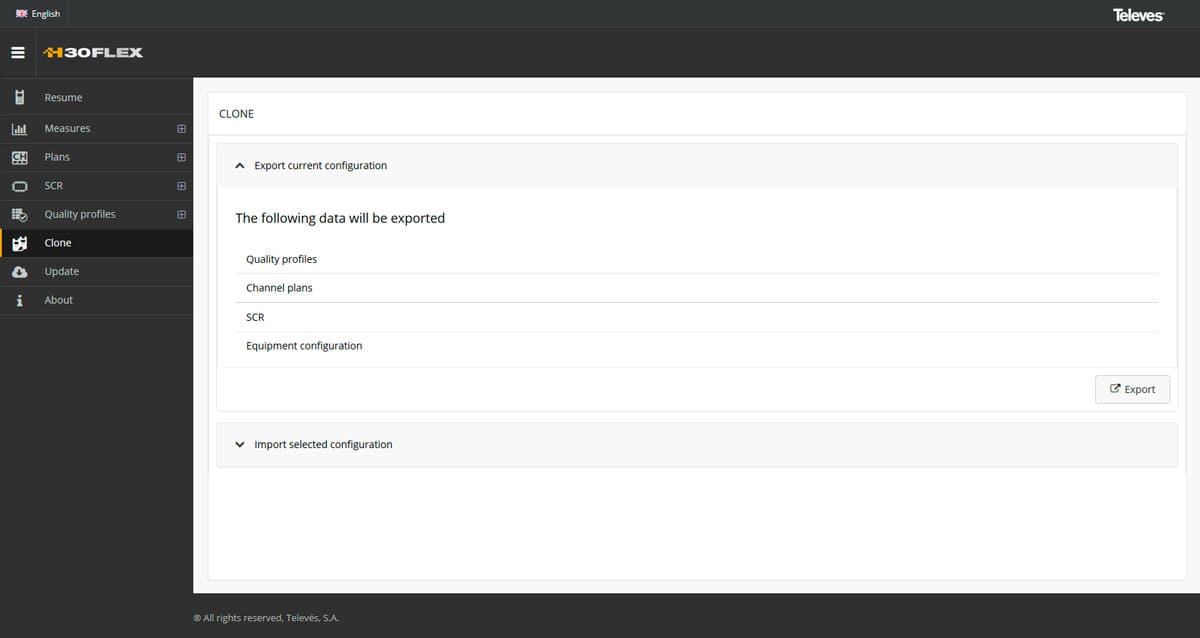 Quality profiles
This section shows two Predetermined profiles (outlet and headend) that can be duplicated to be further displayed and edited in the Customized section. The predetermined profiles have preconfigured values for the main parameters based on the specific standard (level/power, CN, VA, MER, CBER, VBER, or LM); a green colour indicates an optimal value, a yellow colour a value within the target ranges, and a red colour a value that is not acceptable.
Clone
This section allows you to easily obtain multiple meters with the same configuration.
The meter's firmware can be updated in this section. This can be easily done by downloading the update file from the Televes' website, storing it in the PC, selecting it , pushing the Update button, and waiting for the process to complete