Dokumentation
Komplett och uppdaterad service- och produktdokumentation tillgänglig för visning och nedladdning. Välj en kategori för att inleda din sökning.
Detta innehåll finns bara tillgängligt på engelska
InfoTeleves 48 (September 2018)
General Information
A website ready for the digital transformation era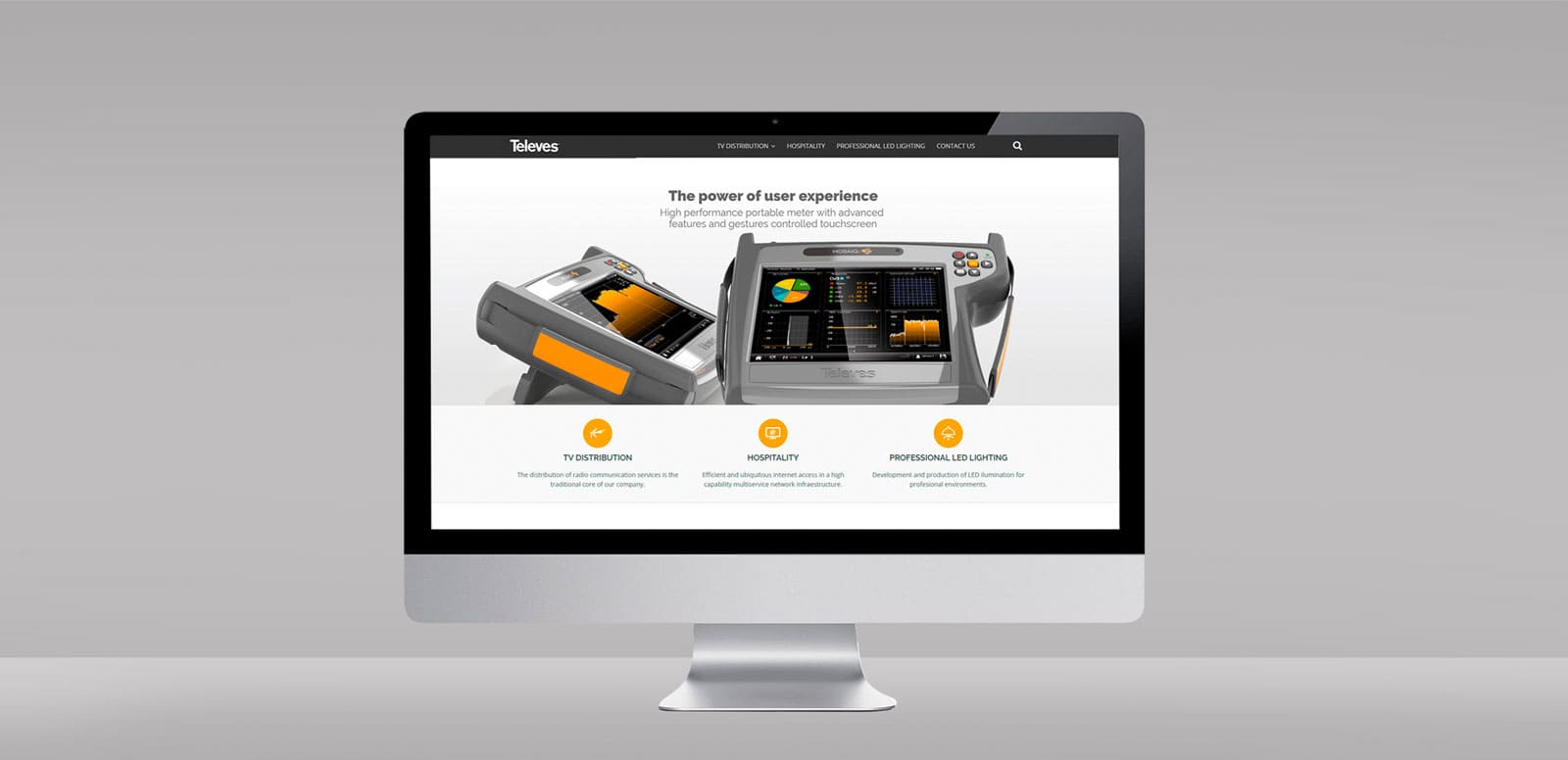 Televes has recently published its new website. With its launching, we wish to offer more information, better organized, in a more appealing way, and with more interactive capabilities for all kinds of users.
The new brand site on the Internet is already accessible at www.televes.com, and it represents one more step in the company's policy towards developing a native digital communication. It provides an integrated resource environment for real-time interaction with all target audiences: clients, providers, regulatory bodies, professional environment, media, and, of course, partners and employees.
Reflecting the company's diversification, the new website is structured around business areas.
Reflecting the company's diversification, the new website is structured around business areas, each of which is described in detail. Another key aspect of the renovation is the improvement of the product data sheets, now more comprehensive and dynamic, with broader information about the product ranges and the technical specifications of each reference.
The site architecture, together with the dynamic and intuitive design responsive to the different types of navigation devices, ensures an improved user experience, compliant with the most stringent standards.
The website is available in nine languages to facilitate access to the company's clients, partners and friends in over 100 countries from the five continents.
Our people
Manuela Carrillo, Specialist of the Human Resources Development department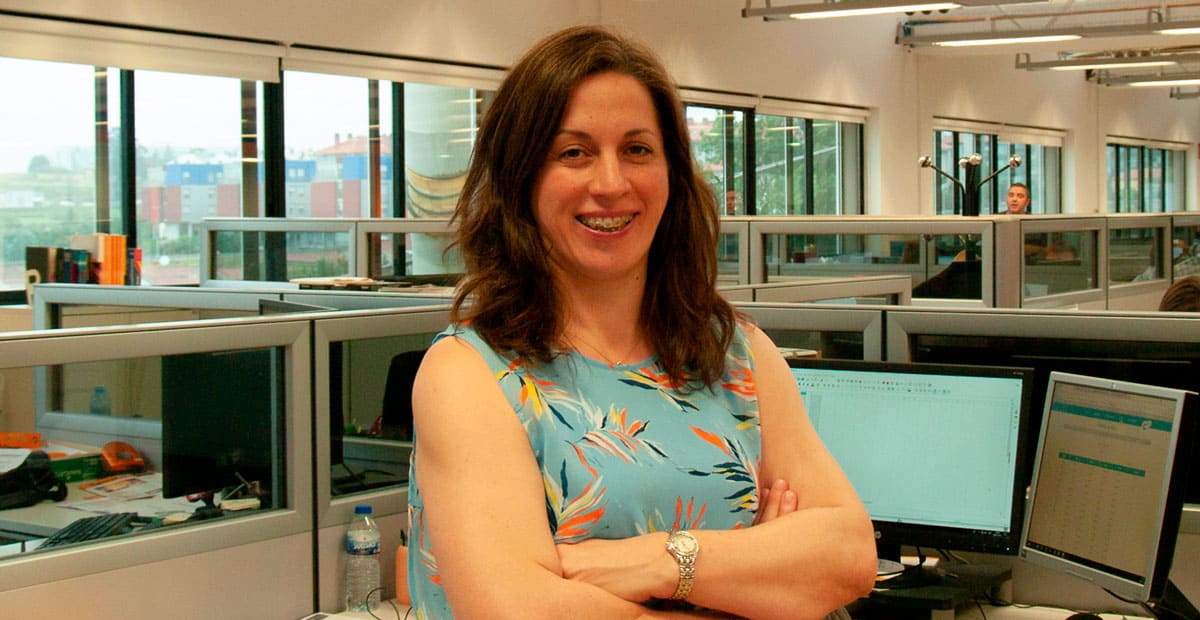 What is your job in Televes?
It focuses on three aspects: Staff selection, training and evaluation. We are involved in getting to know the employees' efficiency and helping them improve and contribute to the company's success. Besides these tasks, we do many more things, from collaborating with education centres, participating in fairs and events, managing subsidies, and a long list of etceteras.Our department is available to all the staff in the Corporation. What I recommend everyone is to contact us should they have any need or concern.
How long have you been working for this company? How was your career path in Televes?
I joined Televes in 2006 , via a temporary agency. My first assignment was as a receptionist. In 2015, I had the opportunity to join the Personnel department, which I liked, since I enjoy dealing with people, and since 2017 I am part of the Human Resources Development department.
What I recommend everyone is not to hesitate and contact Human Resources should they have any need or concern
What is the most satisfying aspect of your job?
My favourite is staff assessment, because it involves sitting with people and listening to them. I like getting to know people and learn from the vision each person has about the company. My role is to help them improve and grow professionally. This contributes to motivation and reinforces commitment.
And what is the hardest?
Searching for new professional profiles associated with Industry 4.0 is a major challenge. We need experts in Big Data, Internet of Things, Artificial Intelligence... The problem lies in the fact that there is gap between what the companies need and the background of the new graduates. Everything evolves very rapidly , and both universities and education centres aren't nimble enough to adapt to such quick changes.
What are, in your opinion, the essential values of our company?
To me, the main value of Televes lies in its human team. All the people that day after day give the best of themselves for us to continue being a reference in terms of innovation, quality and productivity.
Tell us about an ongoing project you consider important.
The key project is Corp4Future. It involves addressing the challenge of digital transformation and Industry 4.0, and requires a huge commitment from all of us. From the Human Resources Development perspective, it not only involves an intensive search for talent outside the organization, but also great opportunities for professional growth inside the Corporation.
Televes Corporation
Reinforces emerging business lines
The Corporation takes a bold step in the commitment with the new business areas with the appointment of Iván Rodríguez as Televes Director for eHealth, professional LED Lighting and Smart Building, and Smart Building.
Iván Rodríguez is a Telecommunications Engineer. Since 2012 until his current appointment he was Managing Director at TRedess, a firm in the Corporation that has positioned itself as an international reference player in the professional television broadcasting market over the recent years. Now he takes the lead of three business areas that are key to Televes as a company and to the diversification strategy of Televes Corporation.
His challenges in the Social and health care business area include reinforcing the relationships with service providers and public administration, and the successful completion of cutting-edge projects based on technologies such as Big Data and the Internet of Things (IoT) to provide solutions - like CareLife - for the elderly and the handicapped welfare, thus taking advantage of the increasing opportunities in the so-called Silver Economy.
In the LED lighting systems domain, the commitment is to foster the development of Televes' own remote control products and solutions, essential to undertake big lighting projects to drive benefits from the huge energy savings that come along with the use of the ICT and the LED technology; the Smart Business strategy will be based on Televes' model, which proposes IoT nodes in buildings as the key elements for the implementation of the Smart City.
Product news
New DiMod modulator
Turn your audio and video signal (HDMI) into just one more digital multiplex (DTT or DVB-C) in your installation.
The new DiMod (Ref. 585401) modulator transforms the audio and video digital signal (HDMI) received form an external source (satellite receiver, Smart TV receiver, etc.) into a DVB-T or DVB-C digital television channel. Contents can be displayed in all the television sets in the home without the need for an STB in each of them.
Device configuration is carried out via a web interface accessible through a Wi-Fi network integrated in the equipment.
Equipment's main features:
HDMI digital input.
Automatic detection of the input resolution.
Over 40 dB MER (Modulation Error Rate).
Compatibility with multiple resolutions (up to 1080 p @ 60 fps).
Uses VBR (Variable Bit Rate), from 2 Mbps to 50 Mbps for video, and from 96 kbps to 384 kbps for audio.
Video output in MPEG-2 or MPEG-4 (H.264) formats.
Configuration, motoring and control through a web interface using Wi-Fi.
Video loop playback via USB port (TS format).
Firmware update via USB.
Equipped with an RF mixer (both for COFDM DTT and for DVB-C QAM A)
Ideas
Feeding of the new Innova Boss antenna equipped with TForce through the USB port of a television set
The new InNova indoor antenna (Ref. 130241, Ref. 130220, Ref.130340, and Ref. 130320) can be powered in three different ways to operate in active smart mode. The last two options shown in the images below correspond to the traditional powering options: either using a 12-V STB or a 5-V USB charger. The novelty in this antenna is the fact that it can be powered through a type-B Micro-USB using a free* USB port of the television set. The power cord is included in the package contents. This makes the installation easier, avoiding the use of a power supply unit and a power socket
*Power consumption: 60 mA @ 5 V
FAQs
How to choose my SFP transceiver in a GPON network?
The GPON standard (providing services to the users) is defined by its class (A, B, C, B+, and C+). They differ in the transmitting power and the receiving sensitivity. Most common classes B+ (OLT/ONT) powers lie in the 1.5 dBm - 5 dBm / 0.5 dBm - 5 dBm ranges respectively. Receiving sensitivities <28 dBm / <27dBm respectively. Most common classes C+ (OLT/ONT)powers lie in the 3 dBm - 7 dBm / 0.5 dBm - 5 dBm ranges respectively. Receiving sensitivities <32 dBm / <30 dBm respectively.
The Ethernet standard (data sharing) was developed in order to share information among multiple devices with large capacity. This type of network does not have fixed transmission speeds and wavelengths like GPON networks. One of the most popular standards for Gigabit Ethernet (1000 Mbits) over optical fibre is 1000BASE-LX (1260 nm... 1360 nm,up to 10 km, single mode). For 10 Gigabit Ethernet the most popular standard is 10GBASE-LR (1310 nm, up to 10 km, single mode). In addition, most popular standards for twisted pair (up 100 m) are 1000BASE-T (CAT5, CAT5e or CAT6), and 1000BASE-TX (CAT6 or CAT7).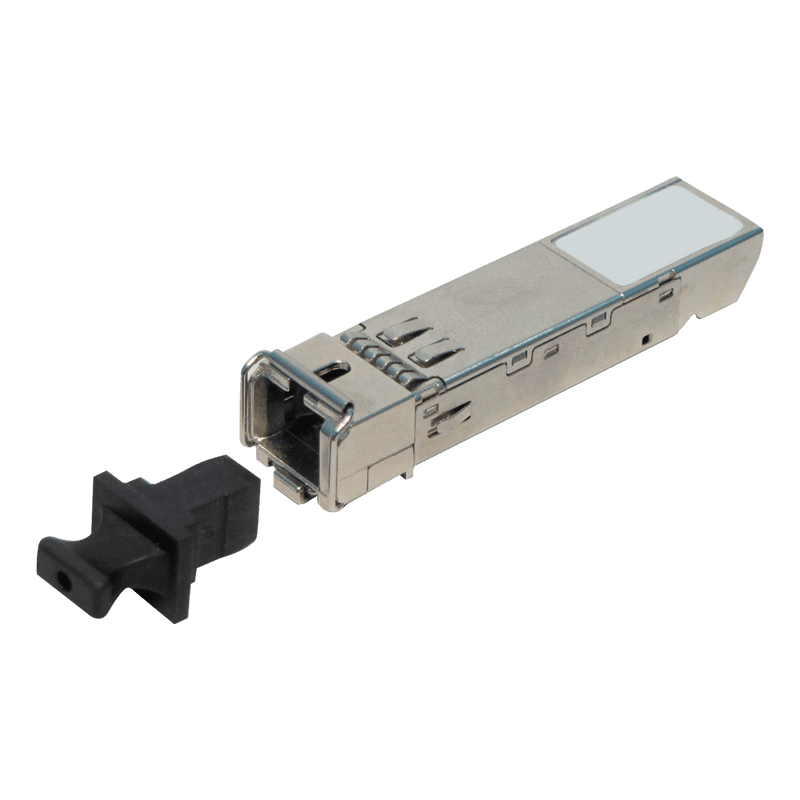 There was a need to create a device capable of sending/receiving and managing information from a single equipment called transceiver. The most widely used format is SFP (Small Form-factor Pluggable).
Currently, Televes provides two SFP for Gigabit Ethernet (fibre and twisted pair), one SFP+ for 10Gigabit Ethernet (fibre), and two SFP for GPON:
Ref. 769210, 1000BASE-LX, 1310 nm, SMF double LC/PC connector
Ref. 769412, 10GBASE-LR/LW, 1310 nm, SMF double LC/PC connector
Ref. 769411, 1000BASE-T, RJ45 connector
Ref. 769410, GPON B+, SMF SC/UPC connector
Facilities
A Illa de Arousa (Spain)
A Illa de Arousa is an idyllic corner at the heart of the ria with the same name in the Spanish province of Pontevedra. Declared a Natural Reserve by the European Union, it consists of 36km of beautiful coastline with fine white sand beaches.
Such a beautiful environment needed its lighting to be updated. Televes undertook the project using its AtmosLED professional lighting solution, which was selected for being specifically designed for areas with a high tourist potential and projecting a luminous flux to the upper hemisphere lower than 0.1%.
This first installation phase, which used 36-LED 60-W AtmosLED 5 devices, has already shown reductions in power consumption close to 70%. The luminaires, made of 6063 T5 anodized aluminium, achieve an outstanding resistance to salinity, an imperative in coastal zones.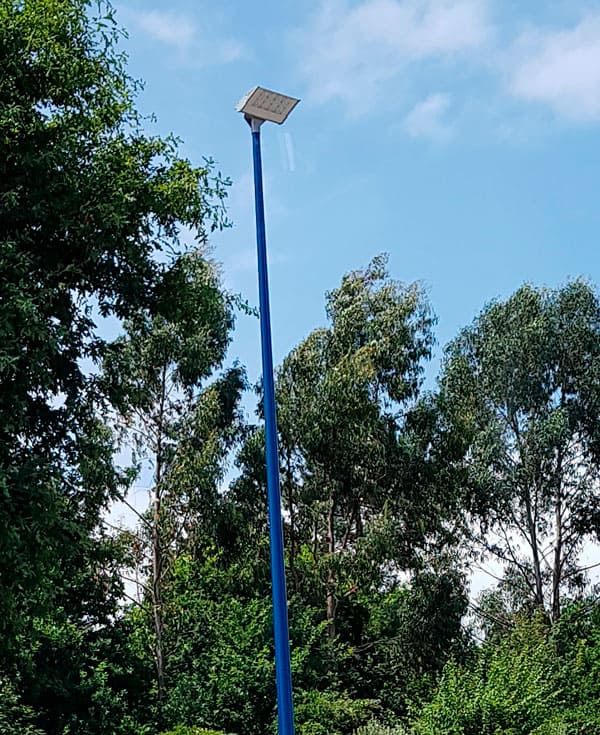 Televes in the world
Angacom (Cologne, Germany.), Broadcast Asia (Singapore), The Hotel Show Africa (Johannesburg, South Africa) and Infocomm 2018 (Las Vegas, USA)
Angacom (Cologne, Germany.) June 4-6
Televes, TRedess and Gsertel were present in this event with their own stands to showcase the full potential of the Corporation. Television infrastructures are quickly becoming the enabling platforms for new generation audiovisual services, and Televes Corporation is consolidating a leading role in that arena.
Broadcast Asia (Singapore) June 26-28
TRedess presented their Doherty solutions up to 3kW in power, ISDB-T (Advanced embedded Remux and EWBS); DEEC echo cancellers for gap-fillers and all standards, and ATSC 1.0 and ATSC 3.0 solutions.
Gsertel also attended and showcased the Hexilon and RCS professional measurement product ranges; year after year the company presents new functions and a wider range of products for measuring and monitoring operator's networks.
The Hotel Show Africa (Johannesburg, South Africa) June 24-26
Televes presented its advanced solutions for the Hospitality sector, focusing on the customized television services, the high-speed high-stability Internet connections throughout the premises, and the creative solutions for Digital Signage. All of these for hotel managers to make their guests feel even better than home.
InfoComm 2018 (Las Vegas, USA) June 2-8
Televes USA took part in this event to showcase its signal distribution solutions, like encoders and spectrum analysers for optical fibre and GPON networks.
Angacom (Cologne, Germany.) June 4-6
Training
MOSAIQ6: Waterfall diagram
This mode is accessed by DRAGGING (DRAG) on the spectrum analyser.
The waterfall diagram is a three-dimensional representation of the spectrum along the time axis. Signal levels are displayed using colours (there are several colour combinations to choose from) based on the scale on the top right side, as shown in the pictures.
The vertical axis of the diagram represents time and the horizontal axis represents frequency.
MOSAIQ6 allows you to edit the Waterfall representation options at any time. The picture 1 shows the different configuration options:
Delete:
Erases the Waterfall screen to restart time representation.
Reference:
Allows the highest colour level in the selected color range to be modified. Selectable values range from 40 dBµV to 140 dBµV.
Range:
Allows the editing of the difference in dB between the colour assigned to the highest level and the colour assigned to the lowest level. Selectable values range from 5 dB to 100 dB.
Colours:
Allows the selection of up to three different colour combinations for the representation (jet, warm, and warm blue).
Beep:
When this option is enabled, a beep will sound whenever the Waterfall representation is refreshed; in other words, whenever new information appears on the screen a beep will be heard to ensure no information is lost.
Spectrum:
Allows the configuration of the spectrum mode options such as Span, reference level, number of dB per division, or bandwidth.
Why can having a tool like this be so useful?
Chronological representation allows for the analysis of very short term interference and signal fading, which would be impossible to observe by just applying the spectrum mode.
Don't miss it!
New software version of MOSAIQ6: 1.18
Starting with this version, you will be able to analyse Wi-Fi networks, edit channels from the channel list itself, and restore the meter's factory-set values.
Furthermore,the bar at the top of the screen displays the LNB type and the DiSEqC when activated. Besides, some other new features are worth highlighting:
Zoom and unit selection (km, US) capability in "Echoes" mode.
Carrier in constellation mode and MER option.
Bandwidth selection capability in spectrum mode.
LCN and TSID.
Audio selection capability in TV mode.
Web-based DAB plan edition.
Channel plan import from a CSV file.
Representation of "Network Name" and orbital position.
"TS Mode" and "PKT size" parameters added in IP packets.