RF Amplifier
Multiband amplifier with high amplification power for the signals processed in T.0X headends.
Generate PDF

Televes reserves the right to modify the product
Main features
Low second and third order distortion, which provide a high output voltage (typical values around 120 dBμV)
Equipped with two signal inputs, which allow the mixing of the channels of its own headend with channels coming from other sources
Equipped with a test output
RF
INPUT
Frequency range
MHz
47...862
Noise figure
dB
< 11
Return losses
> 10
Impedance
Ω
75
RF
OUTPUT
Frequency range
MHz
46...862
Gain
dB
44 ± 2,5
Max. output level
DIN45004B

dBμV

(dBmV)

120 (60)
42 CH Cenelec

105 (45)

Gain regulation
dB
0 - 20
Return losses
> 8
Impedance
Ω
75
GENERAL
Powering voltage
Vdc
24
Consumption (max.)
mA
450
Protection index

IP
20
In some cases, the transmodulation of specific satellite channels into COFDM will probably not be enough; this is why the option is available to add the IF of a satellite polarity to the COFDM signal flow. Furthermore, that signal flow may be transmitted over optical fibre by means of an appropriate low-loss optical transmitter, thus allowing to reach longer distances.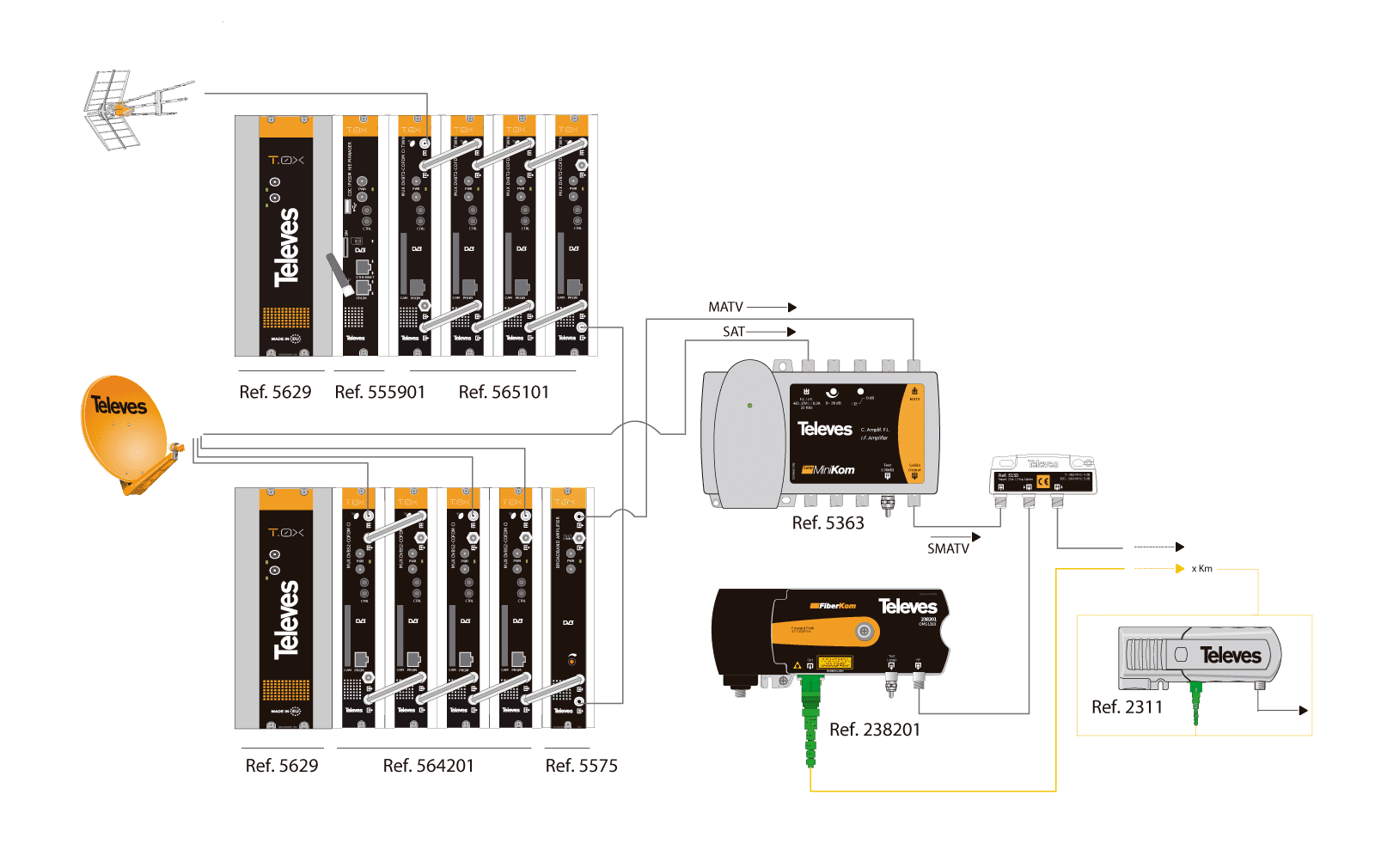 1. T.0X processing headends (DVB/S2-COFDM and DVB-T/COFDM transmodulators, encoders/modulators, amplifier, etc.).
2. MiniKom amplifier ref. 5363 (Art. No. EV45).
3. SMATV optical transmitter ref. 238201 (Art. No. OMS1310).
4. SMATV optical receiver ref. 2311 (Art. No. OE1216)